Description
FLIR T840 High-Performance Thermal Imaging Camera
Stock #220826C
Included with Sale
-FLIR T840 Unit
-Hard Padded Transport Case
-2 Lithium Ion Batteries
-Charger and AC Adapter
-Region-Specific Plug Adapters
-Manual & Documentation
-USB Type-C to HDMI Cable
-USB Type-C to Type-A Cable
-USB Type-C to Type-C Cable
-SD Storage Card
-Lanyard
Specifications:
FLIR T840 High-Performance Thermal Camera
The FLIR T840 infrared camera is designed to help electric utility and other thermography professionals comfortably survey equipment both indoors or outdoors and seek out signs of failure all day long. Thanks to an integrated eyepiece viewfinder and a bright 4-inch color LCD display, the T840 makes it easy to conduct inspections outside in bright, challenging light conditions. The 180° rotating lens platform and thoughtful ergonomic design helps users quickly diagnose failing components in hard-to-reach areas. Pair the T840 with a FLIR FlexView™ dual field of view lens for the convenience to instantly switch from wide-area to telephoto scanning. A 6° telephoto lens option is also available to ensure accurate temperature measurement of small targets from farther distances.
SAFELY AND COMFORTABLY ASSESS EQUIPMENT
Scan large areas from a safe distance with 464 x 348 resolution, and reduce the strain of full-day inspections with the 180° rotating optical block
MAKE CRITICAL DECISIONS QUICKLY
Get industry-leading image clarity from FLIR Vision Processing™, MSX®, and UltraMax® to help you make the right call – fast
DESIGNED TO MAKE YOUR WORK EASIER
Get the most out of your workday with FLIR Ignite automatic image uploading directly from the camera and rapid reporting features that help you organize findings in the field
FLIR Ignite™ for T-Series
Improve your team's efficiency and capabilities with the FLIR Ignite cloud solution. Directly upload, organize, and share images from your Wi-Fi connected FLIR T5xx or T8xx camera. Keep your data safe in one place and easily accessible from any device.
SPECIFICATIONS
IR Resolution: 464 × 348 pixels (161,472 pixels)
Thermal Sensitivity/NETD:

<40 mK (24° lens) or <50 mK (6° lens) @ 30°C (86°F)
Accuracy: ±2°C (±3.6°F) or ±2% of reading
Digital Camera: 5 MP, with built-in LED photo/video lamp; disabled when 6° lens in use
Display: 4", 640 × 480 pixel touchscreen LCD with auto-rotation
Storage Media: Removable SD card
IMAGING & OPTICAL
Color Palettes: Iron, Gray, Rainbow, Arctic, Lava, Rainbow HC
Detector Type and Pitch: Uncooled microbolometer, 17 µm
Digital Camera: 5 MP, with built-in LED photo/video lamp; disabled when 6° lens in use
Digital Zoom: 1-6x continuous
f-number: 24° lens: 1.3, 6° lens: 1.35
Focus: Continuous with laser distance meter (LDM), one-shot LDM, one-shot contrast, manual
Image Frequency: 30 Hz
IR Resolution: 464 × 348 pixels (161,472 pixels)
Lens Identification: Automatic
Macro Mode: 71 µm effective spotsize
Minimum Focus Distance: 24° lens: 0.15 m, optional macro mode, 6° lens: 5.0 m
Non-radiometric IR video streaming: H.264 or MPEG-4 over Wi-Fi MJPEG over UVC or Wi-Fi
Picture-in-Picture: Resizable and movable
Radiometric IR video recording: Real-time radiometric recording (.csq)
Radiometric IR video streaming: Yes, over UVC
Spectral Range: 7.5 - 14.0 µm
Thermal Sensitivity/NETD: <40 mK (24° lens) or <50 mK (6° lens) @ 30°C (86°F)
UltraMax: Quadruples pixel count; activated in menu and processed in FLIR Tools
Viewfinder: Yes
MEASUREMENT & ANALYSIS
Accuracy: ±2°C (±3.6°F) or ±2% of reading
Measurement Presets: No measurement, center spot, hot spot, cold spot, User Preset 1, User Preset 2
Object Temperature Range: -20°C to 120°C (-4°F to 248°F); 0°C to 650°C (32°F to 1202°F); 300°C to 2000°C (572°F to 3632°F)
Spot Meter: 3 ea. in live mode
USER INTERFACE
Display: 4", 640 × 480 pixel touchscreen LCD with auto-rotation
Text:

Predefined list or touchscreen keyboard
Voice: 60 sec. recording added to still images or video via built-in mic (has speaker) or via Bluetooth
POWER
Battery operating time: Approx. 4 hours at 25°C (77°F) ambient temperature and typical use
Battery Type: Li-ion battery, charged in camera or on separate charger
ENVIRONMENTAL & CERTIFICATIONS
Operating Temperature Range: -15°C to 50°C (5°F to 122°F)
Safety: EN/UL/CSA/PSE 60950-1
Storage Temperature Range: -40°C to 70°C (-40°F to 158°F)
GENERAL
Compatible with FLIR software: FLIR Thermal Studio Suite, FLIR Route Creator, FLIR Ignite, FLIR Research Studio, FLIR Atlas SDK
Laser Pointer: Yes
Packaging: Infrared camera with lens, small viewfinder eyecup, 2 batteries, battery charger, hard transport case, lanyards, front lens cap, power supplies, printed documentation, SD card (8 GB), cables (USB 2.0 A to USB Type-C, USB Type-C to HDMI, USB Type-C to USB), License card: FLIR Thermal Studio Pro (3 month subscription) + FLIR Route Creator Plugin for Thermal Studio Pro (3 month subscription)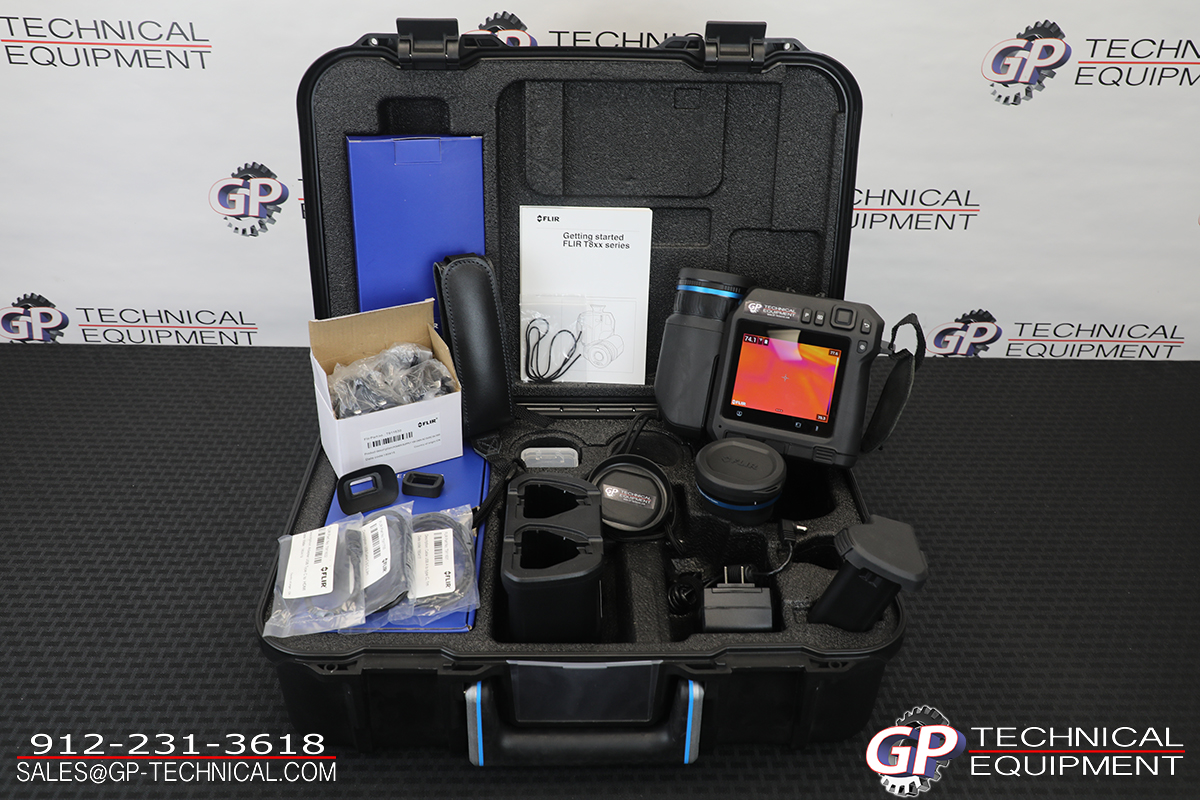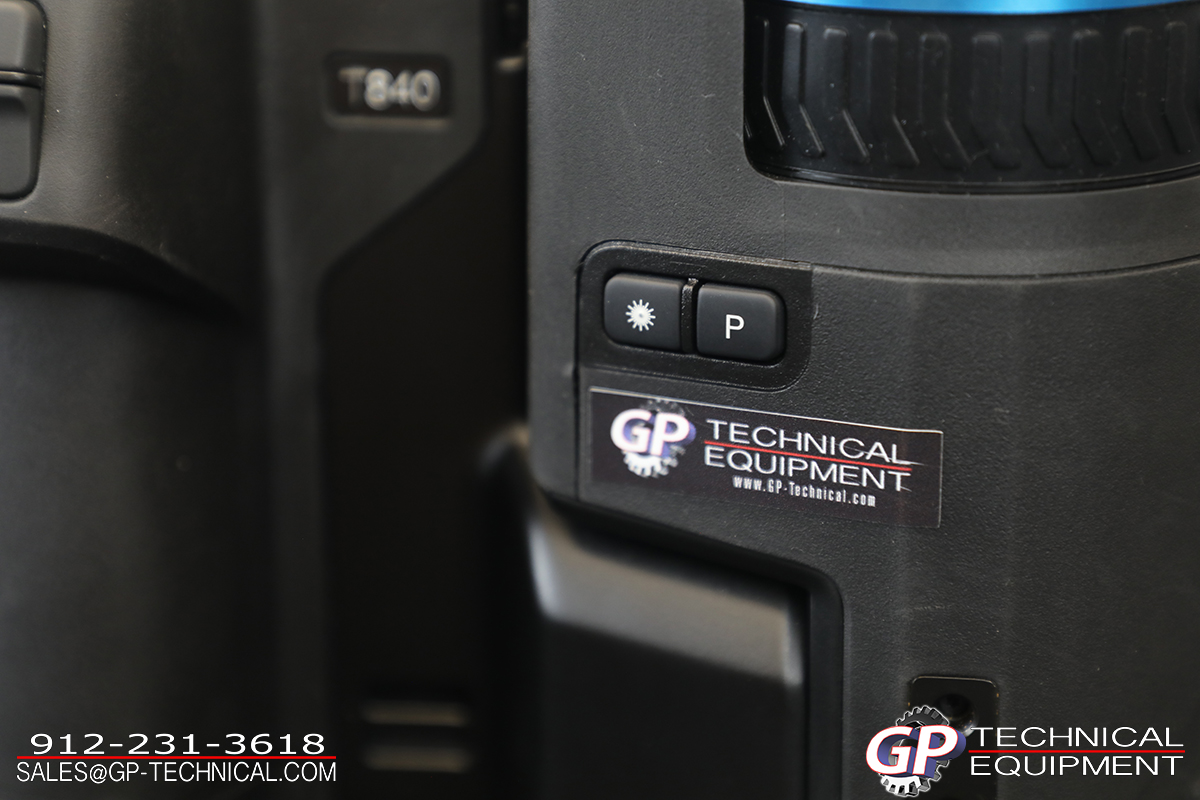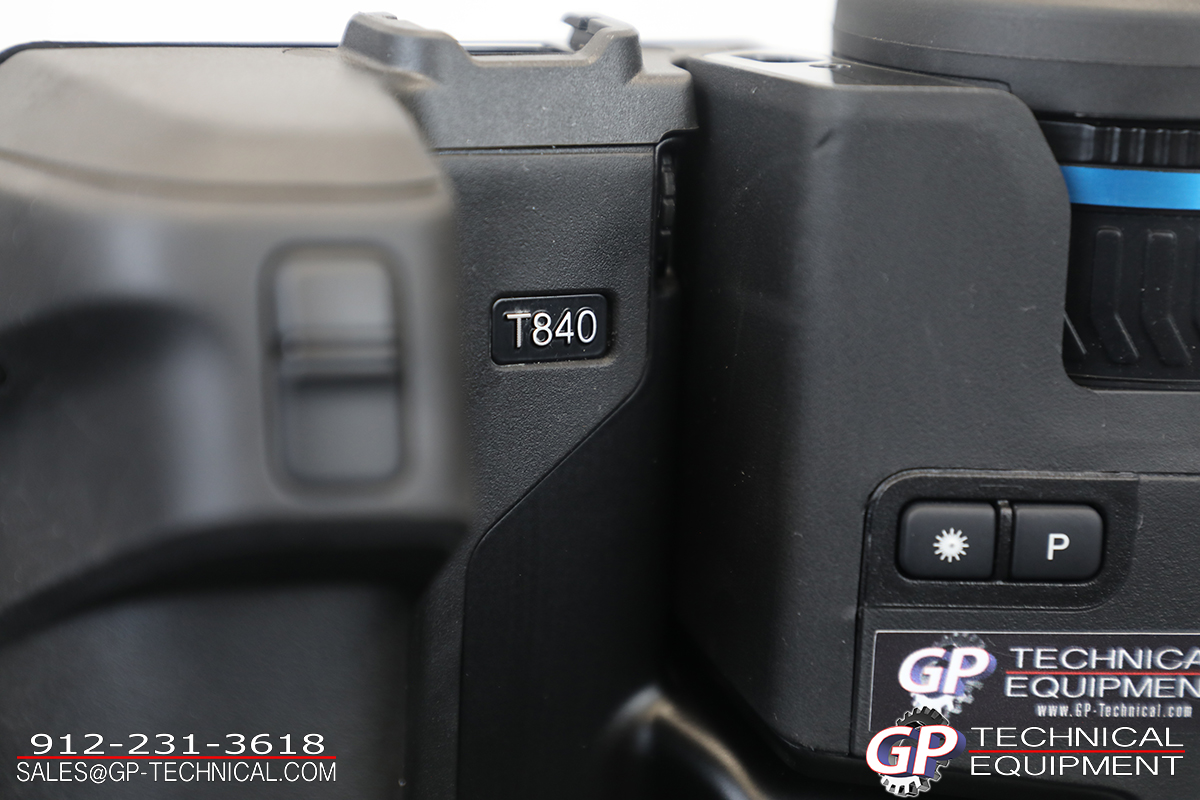 Trade Ins: We offer some of the highest prices on your used test equipment. We do partial trade ins or will buy your used equipment outright. An estimated trade in value will be assessed within 24 hours of receiving a value request.
Payment terms: We accept payment prior to shipping by Visa, MasterCard, AMEX, and Paypal (up to $10.000). Businesses and Universities, please call for payment options. Please notify us of method of payment in a timely fashion after the auction has ended. If a buyer has not made any attempt to contact us 7 days after this auction's end time we will assume they are forfeiting the auction and the item will no longer be available to them.
International Buyers:
We reserve the right to accept or decline international Paypal and credit cards. International shipping is available, but clearing customs will often result in delivery delays.
Shipping Terms: Buyer pays for shipping and packaging for this item. International buyers will pay for shipping charges to their country.

* Shipping and handling fees are not refundable under any circumstances. In the case of a return, the buyer is responsible for all shipping fees.
* Shipping for international buyers will be invoiced separately from the purchased product due to the high expense of shipping charges.

* Your phone number is required for shipping purposes, so please provide it with all correspondence.
* Please note that calculated shipping is based on UPS. We also reserve the right to ship for the same cost via FedEx or other carriers.

Packaging: All items will be packaged with materials necessary to ensure that the equipment will be adequately protected from the shipping process.

Feedback:
We appreciate Positive feedback. We leave feedback as soon as we get feedback from you. If you have any problems with the sale, please try to resolve it with us before you leave us a Neutral or Negative feedback.
Warranty: No warranty is expressed or implied with any unit. All sales include a 3 day right of return (ROR). For any reason, within 72 hours of taking possession of the item, the buyer can return the item for a complete refund minus all shipping costs.
Return Policy: You can return the item for any reason within three days. We put great effort into thoroughly documenting each piece of equipment, typically with very detailed pictures and video clips. We strongly encourage you to study these images closely before you commit to purchasing the item. Please call or email us if you have any questions about anything that you are uncertain about. It is critical that you confirm that this item suites your needs within the three day return policy period. Any returns after two weeks will not be entertained, and we will automatically escalate to Ebay. If you choose to open an Ebay return case, and we are forced to accept the return, you are responsible for the following:
*Return Shipping and insurance of the item to our Store at the following address:

*A Restocking fee of 10% of the purchase price for every week (after the initial 3 day return period) that the item is in your possession, not to exceed two weeks.