Description
Hilti PS 300 Ferroscan System
Included with Sale
-Hard Padded Transport Case
Specifications:
PS 300 FERROSCAN SYSTEM
Concrete detector for rebar localization, depth measurement and size estimation in structural analysis.
FEATURES & APPLICATIONS
Features
• Integrated display provides rebar layout visuals in top view and sectional view for on-the-spot structural analysis
• Smart algorithm helps accurate depth measurements for rebar
• Wide sensor area enables quick and easy scan over large areas
• Record scan data for documentation and structural analysis
Applications
• Verification and analysis for 1st layer rebar
• Checking concrete cover over large areas for structural repair work
• Building acceptance inspections and quality control
• Generation of structural assessment reports including statistics and visual presentation in 2D/3D views of areas
Fleet Management
• Individual labels and online visibility provide tool fleet transparency.
• Monthly usage fee covering all tool, service and repair costs helping to ensure absolute cost control and back-office efficiency.
• High-performing tools and latest technology help to increase jobsite productivity.
• Loan tools during repair to reduce downtime.
• Temporary tools for peak times and special applications help to reduce investments.
Other Specifications
• Max. detection depth for object localization:  8 in
• Localization accuracy:  1% +/-3mm mm
• Minimum distance between two neighbouring objects:  1.18 in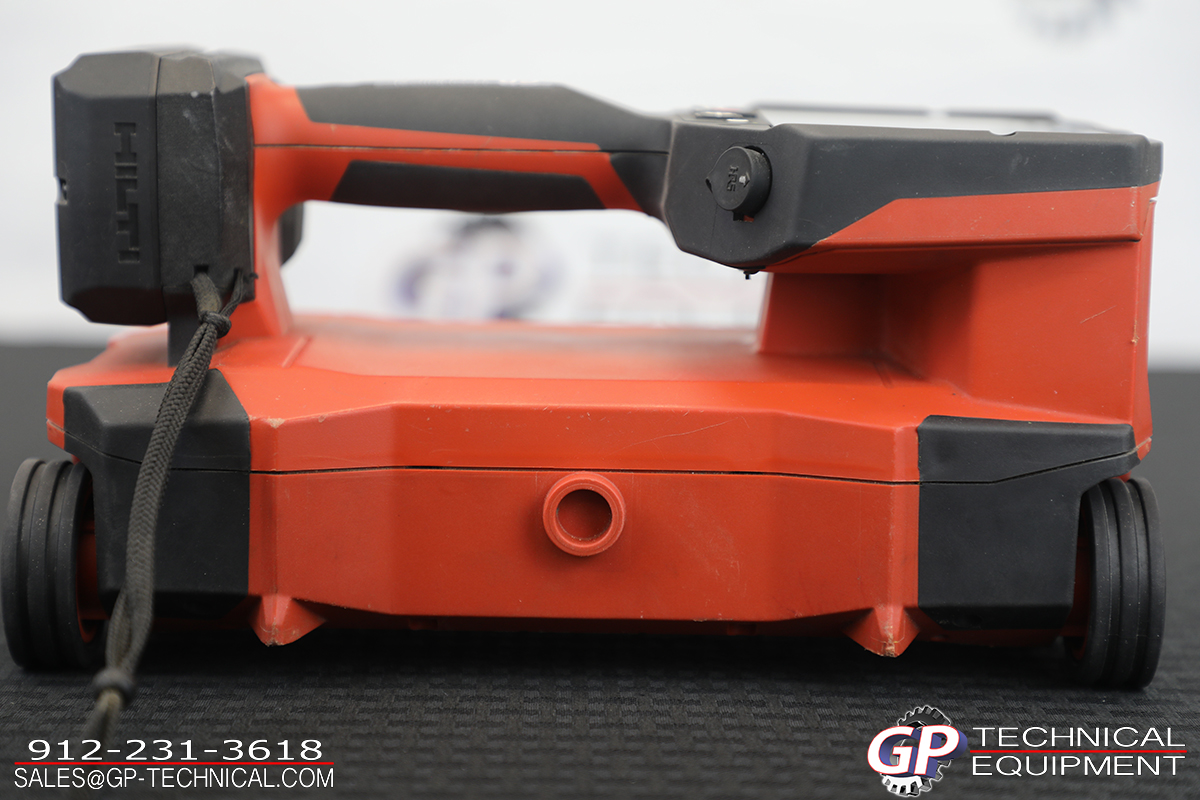 Trade Ins: We offer some of the highest prices on your used test equipment. We do partial trade ins or will buy your used equipment outright. An estimated trade in value will be assessed within 24 hours of receiving a value request.
Payment terms: We accept payment prior to shipping by Visa, MasterCard, AMEX, and Paypal (up to $10.000).  Businesses and Universities, please call for payment options.  Please notify us of method of payment in a timely fashion after the auction has ended. If a buyer has not made any attempt to contact us 7 days after this auction's end time we will assume they are forfeiting the auction and the item will no longer be available to them.
International Buyers:
 We reserve the right to accept or decline international Paypal and credit cards. International shipping is available, but clearing customs will often result in delivery delays.
Shipping Terms:  Buyer pays for shipping and packaging for this item. International buyers will pay for shipping charges to their country.  
 
* Shipping and handling fees are not refundable under any circumstances. In the case of a return, the buyer is responsible for all shipping fees.
* Shipping for international buyers will be invoiced separately from the purchased product due to the high expense of shipping charges.

* Your phone number is required for shipping purposes, so please provide it with all correspondence.
* Please note that calculated shipping is based on UPS.  We also reserve the right to ship for the same cost via FedEx or other carriers. 

Packaging: All items will be packaged with materials necessary to ensure that the equipment will be adequately protected from the shipping process.

Feedback:  We appreciate Positive feedback. We leave feedback as soon as we get feedback from you. If you have any problems with the sale, please try to resolve it with us before you leave us a Neutral or Negative feedback.

Warranty: No warranty is expressed or implied with any unit. All sales include a 3 day right of return (ROR).  For any reason, within 72 hours of taking possession of the item, the buyer can return the item for a complete refund minus all shipping costs. 
Return Policy:  You can return the item for any reason within three days. We put great effort into thoroughly documenting each piece of equipment, typically with very detailed pictures and video clips.  We strongly encourage you to study these images closely before you commit to purchasing the item. Please call or email us if you have any questions about anything that you are uncertain about. It is critical that you confirm that this item suites your needs within the three day return policy period. Any returns after two weeks will not be entertained, and we will automatically escalate to Ebay. If you choose to open an Ebay return case, and we are forced to accept the return, you are responsible for the following:
*Return Shipping and insurance of the item to our Store at the following address:

*A Restocking fee of 10% of the purchase price for every week (after the initial 3 day return period) that the item is in your possession, not to exceed two weeks.