Description
IDS Detector Duo Dual-Frequency GPR
Included with Sale
-All Associated Cables for Operation
see photos for full inventory
Specifications:
Detector Duo 
Detector Duo is a portable radar solution for locating buried utilities and other underground features. To accomplish this task it uses a dual frequency antenna which provides an increased resolution at the same time as a better penetration depth, allowing a more accurate interpretation of the data. The compact, easy to transport and deploy radar and its high performance acquisition software allows contractors, local authorities and utility service providers to locate the exact position of pipes, cables and bedrock and helps prevent damage during trenching and drilling operations.
Detector Duo Benefits 
• Easy to interpret real-time results make locating the exact position of pipes and cables simple.
• Two antennas combine superior resolution with extra soil penetration depth.
• GPS support to help keep track of the survey path, buried objects and utilities
Detector Duo Features
• Deep and shallow antennas: Two antennas (250 MHz – 700MHz) in the same box help the operator to locate pipes and cables giving him the proper frequency for  the specific locating need. Real time display of deep and shallow antennas on the same screen is also available.
• More than 8 hours of autonomous use: The Detector Duo is equipped with a low power consuming control unit.
• Easy to use: Plug and play, few buttons, easy software interface. Automatic calibration for quick start up; automatic recovery of soil type parameters; no need to insert propagation speed or soil dielectric constants.
• GPS: With GPS the operator can see the path covered during the survey and can add geo-located marks within the software to indicate pipes and targets.
Detector Duo Configuration
Detector Duo is composed of a dual frequency antenna unit contained in a replaceable protective skid and mounted on a rugged trolley for easy use and maneuverability. The trolley is lightweight and collapsible for easy portability. Included in the trolley unit is a DAD FastWave radar control unit and a data logger PC with a sunlight readable monitor for easy use outdoors.
System Specifications:
Overall weight (PC not included): 20.5kg ( 46lbs )
Recommended Laptop: Panasonic CF-19 Tough-Book
Max. acquistion speed (@ std. Scan interval): 11 kph (6.8 mph)
Power consumption: 13.3 W
Positioning: Metric wheel and optional GPS or Total station
Scan rate per channel (@512 samples/scan):
127 scans/sec
Scan Interval: 42 scans/m
Power Supply: SLA Battery 12VDC 12 AH
Antenna Specifications:
Environmental: IP65
Antenna FootPrint: 60 x 39 cm
Number of hardware channels: 2
Antenna Center Frequencies: 250MHz and 700 MHz
Antenna polarization: HH Polarization
Certification: EC, FCC, IC
SOFTWARE SPECIFICATIONS:
K2 acquisition software
• Automatic calibration for an easy and quick start-up- Metric and Imperial units
• Several filter option and filters macros
• Automatic calibration for an easy and quick start-up
• Visualization and storage of two antennas data
• Mark of targets and pipes through software
• Available in more than 20 languages
• Easy connection with GPS or total station with direct exportation of path and targets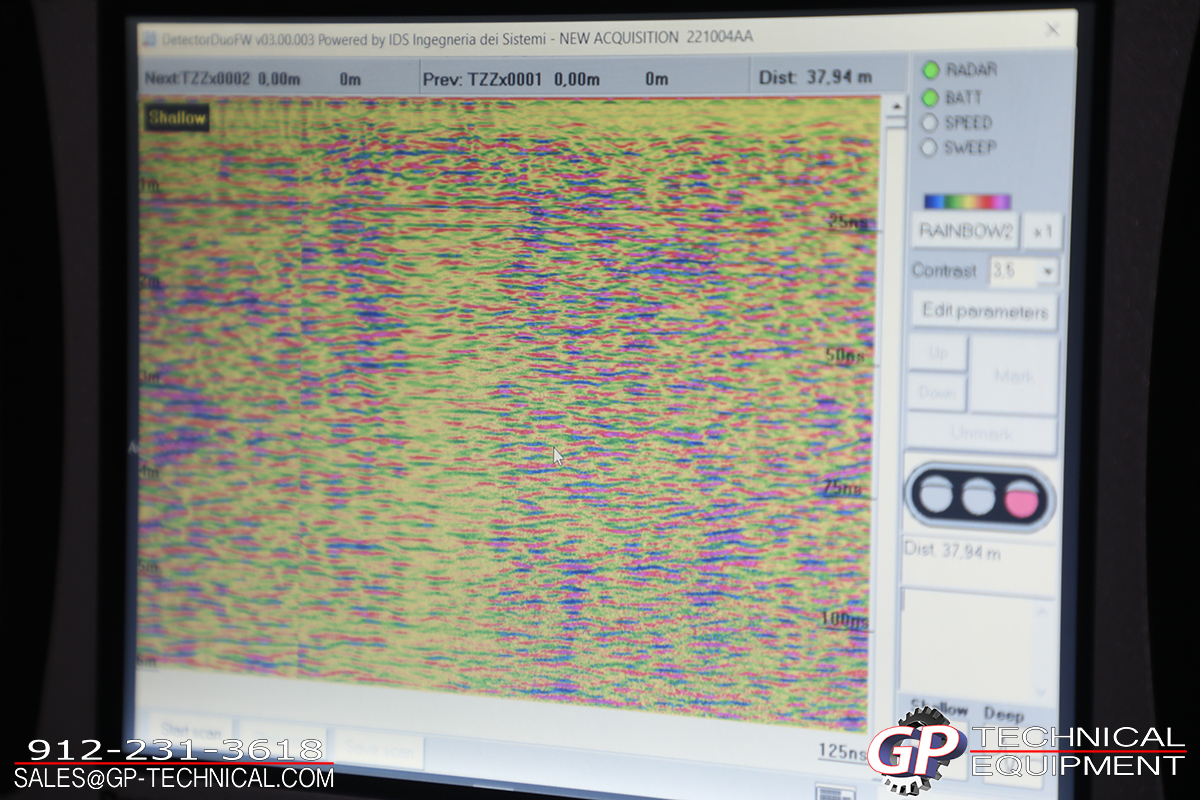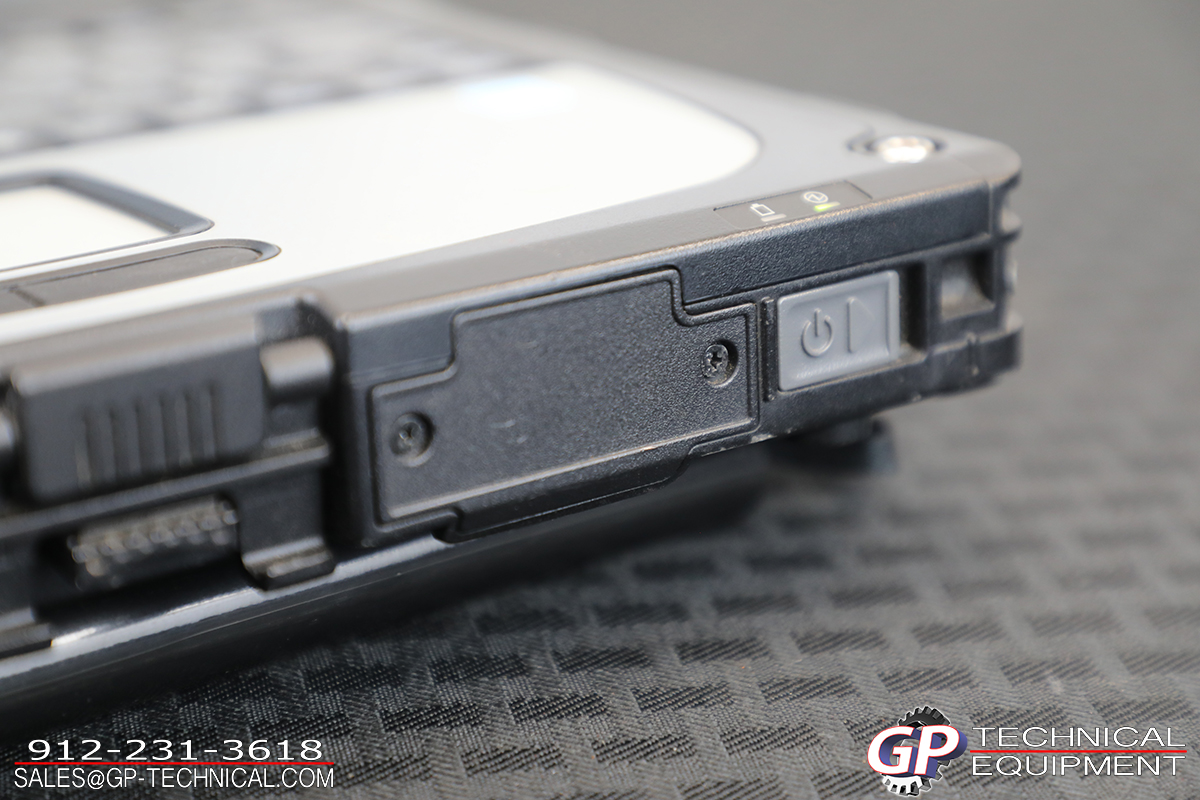 Trade Ins: We offer some of the highest prices on your used test equipment. We do partial trade ins or will buy your used equipment outright. An estimated trade in value will be assessed within 24 hours of receiving a value request.
Payment terms: We accept payment prior to shipping by Visa, MasterCard, AMEX, and Paypal (up to $10.000).  Businesses and Universities, please call for payment options.  Please notify us of method of payment in a timely fashion after the auction has ended. If a buyer has not made any attempt to contact us 7 days after this auction's end time we will assume they are forfeiting the auction and the item will no longer be available to them.
International Buyers: We reserve the right to accept or decline international Paypal and credit cards. International shipping is available, but clearing customs will often result in delivery delays.
Shipping Terms:  Buyer pays for shipping and packaging for this item. International buyers will pay for shipping charges to their country.  
 
* Shipping and handling fees are not refundable under any circumstances. In the case of a return, the buyer is responsible for all shipping fees.
* Shipping for international buyers will be invoiced separately from the purchased product due to the high expense of shipping charges.

* Your phone number is required for shipping purposes, so please provide it with all correspondence.
* Please note that calculated shipping is based on UPS.  We also reserve the right to ship for the same cost via FedEx or other carriers. 

Packaging: All items will be packaged with materials necessary to ensure that the equipment will be adequately protected from the shipping process.

Feedback:  We appreciate Positive feedback. We leave feedback as soon as we get feedback from you. If you have any problems with the sale, please try to resolve it with us before you leave us a Neutral or Negative feedback.

Warranty: No warranty is expressed or implied with any unit. All sales include a 3 day right of return (ROR).  For any reason, within 72 hours of taking possession of the item, the buyer can return the item for a complete refund minus all shipping costs. 
Return Policy:  You can return the item for any reason within three days. We put great effort into thoroughly documenting each piece of equipment, typically with very detailed pictures and video clips.  We strongly encourage you to study these images closely before you commit to purchasing the item. Please call or email us if you have any questions about anything that you are uncertain about. It is critical that you confirm that this item suites your needs within the three day return policy period. Any returns after two weeks will not be entertained, and we will automatically escalate to Ebay. If you choose to open an Ebay return case, and we are forced to accept the return, you are responsible for the following:
*Return Shipping and insurance of the item to our Store at the following address:

*A Restocking fee of 10% of the purchase price for every week (after the initial 3 day return period) that the item is in your possession, not to exceed two weeks.