Description
InnovX Alpha A-4000 XRF Analyzer
Stock #230309A
Included with Sale
-InnovX Alpha A-4000 Unit
-Hard Padded Transport Case
-Lithium Ion Battery
-Charger and AC Cable
-HP IPAQ PDA
-HP IPAQ Dock
-HP IPAQ Charger
About the Unit:
For point-and-shoot simplicity Innov-X offers the smallest, fastest and most versatile handheld XRF analyzer available. The Innov-X tube-based Alpha Series™ takes on-site environmental metals analysis to a new level. It features a miniature, rugged X-ray tube. The Alpha Series™ provides reliable analysis on RCRA, Priority Pollutant metals and other elements in soils, liquids, coatings, etc. Meets EPA Method 6200 for metals in soils, NIOSH Method 7702 for lead in air filters, OSHA Methods OSS1 and OSA1 for lead in surface wipes and air filters.
A summary of its testing capabilities:
• RCRA and Priority Pollutant metals analysis in a wide variety of samples.
• Metals in soil.
• Lead-based paint.
• Filter media.
• Dust wipe analysis.
• CCA (Chromated Copper Arsenate) treated wood, other construction materials or debris.
• Paints & coatings, hazardous waste classification, oils and liquids.
The environmental analyzer for on-site, fast, confident screening of pollutants.
Rely on the Alpha Series™ for a wide variety of on-site environmental analyses. These include in-situ soil analysis for rapid site investigations and remediation projects. Operators may test directly on the ground or through bagged samples. By collecting and preparing soil samples you can achieve laboratory quality results in the field. The Alpha Series™ can be pre-calibrated for filters, coatings, CCA-treated wood and many other sample types.
The PDA Advantage.
The Alpha Series™ is driven by the HP IPAQ pocket PC.
• Upgrade to new generations as available.
• Use different PDAs and preserve personal settings.
• Wireless data transfer – ideal for remote sites.
• Easily transfer data or download software and upgrades.
State-of-the-Art Technology.
Innov-X combines an X-ray tube source, multiple beam filtering and the HP PDA to deliver superior limits of detection, speed, precision and upgrade capability.
• Superior performance on Cr and other metals. Light Element Analysis Program (LEAP) analyzes P, S, Cl, K and Ca.
• Utilizes advanced and universal XRF data modeling:
Compton Normalization: "Internal Standard" provides for quantitative analysis without site-specific calibrations.
Fundamental Parameters: Standardless, ideal for samples with high and low concentrations of several elements.
Empirical Calibrations: "Calibration Curves", allows user-generated calibration curves.
• Add new elements and calibrations easily. Innov-X analyzers will meet your requirements today and in the future.
• View spectra on screen.
• Compare spectra for comparative analysis and display results versus standards.
• Stored tests can be re-run with new parameters or models.
• Data Security: stored in binary format for data integrity.
Specifications subject to change without notice.
------------------------------------------------------------------------
Detailed Images Below
------------------------------------------------------------------------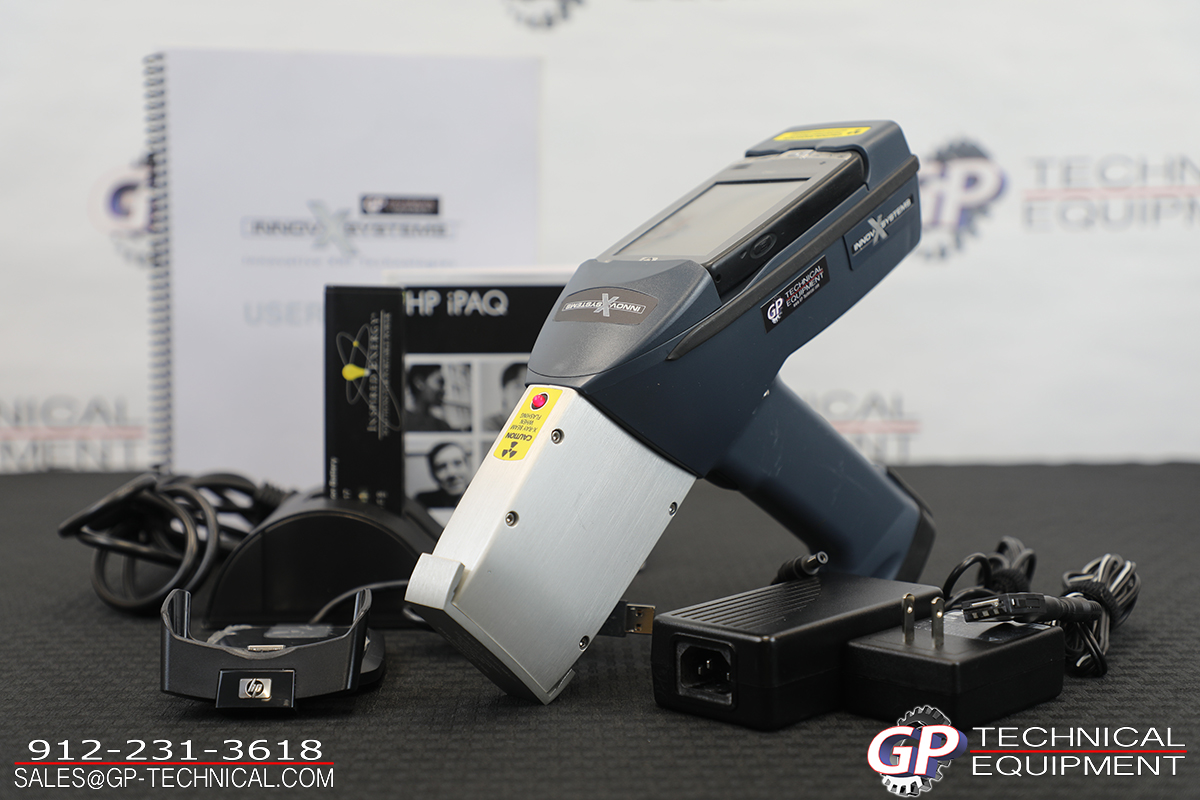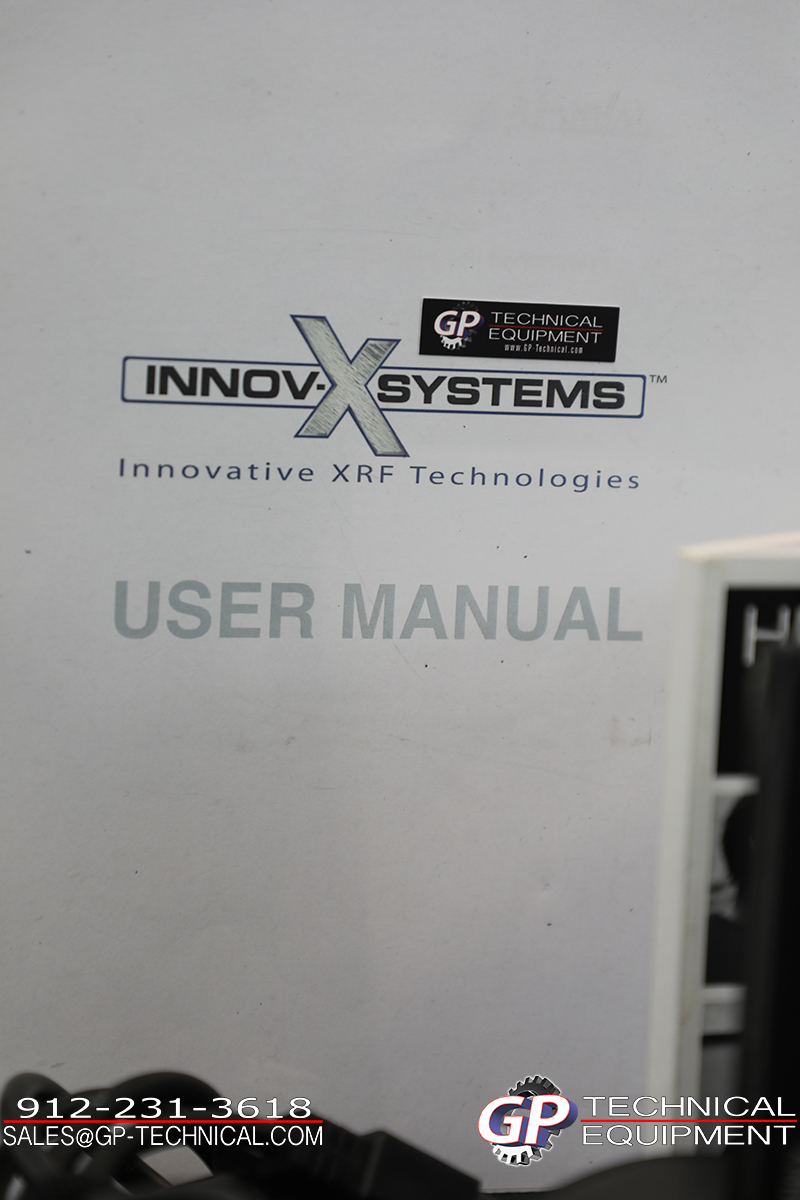 Trade Ins: We offer some of the highest prices on your used test equipment. We do partial trade ins or will buy your used equipment outright. An estimated trade in value will be assessed within 24 hours of receiving a value request.
Payment terms: We accept payment prior to shipping by Visa, MasterCard, AMEX, and Paypal (up to $10.000). Businesses and Universities, please call for payment options. Please notify us of method of payment in a timely fashion after the auction has ended. If a buyer has not made any attempt to contact us 7 days after this auction's end time we will assume they are forfeiting the auction and the item will no longer be available to them.
International Buyers: We reserve the right to accept or decline international Paypal and credit cards. International shipping is available, but clearing customs will often result in delivery delays.
Shipping Terms: Buyer pays for shipping and packaging for this item. International buyers will pay for shipping charges to their country.
* Shipping and handling fees are not refundable under any circumstances. In the case of a return, the buyer is responsible for all shipping fees.
* Shipping for international buyers will be invoiced separately from the purchased product due to the high expense of shipping charges.
* Your phone number is required for shipping purposes, so please provide it with all correspondence.
* Please note that calculated shipping is based on UPS. We also reserve the right to ship for the same cost via FedEx or other carriers.
Packaging: All items will be packaged with materials necessary to ensure that the equipment will be adequately protected from the shipping process.
Feedback: We appreciate Positive feedback. We leave feedback as soon as we get feedback from you. If you have any problems with the sale, please try to resolve it with us before you leave us a Neutral or Negative feedback.
Warranty: No warranty is expressed or implied with any unit. All sales include a 3 day right of return (ROR). For any reason, within 72 hours of taking possession of the item, the buyer can return the item for a complete refund minus all shipping costs.
Return Policy: You can return the item for any reason within three days. We put great effort into thoroughly documenting each piece of equipment, typically with very detailed pictures and video clips. We strongly encourage you to study these images closely before you commit to purchasing the item. Please call or email us if you have any questions about anything that you are uncertain about. It is critical that you confirm that this item suites your needs within the three day return policy period. Any returns after two weeks will not be entertained, and we will automatically escalate to Ebay. If you choose to open an Ebay return case, and we are forced to accept the return, you are responsible for the following:
*Return Shipping and insurance of the item to our Store at the following address:
*A Restocking fee of 10% of the purchase price for every week (after the initial 3 day return period) that the item is in your possession, not to exceed two weeks.