Description
Olympus 45MG Ultrasonic Thickness Gage
Stock #220923A
Included with Sale
-Olympus 45MG Unit
-Hard Transport Case
-Protective Case
-AA Batteries
-D7906-SM Probe & Cable
MTD705 Probe & Cable
-Stepped Calibration Standard
-Stainless Calibration Standard
-Shoulder Strap
-Software CD & Quick Start Guide
Specifications:
Simple Operation, Rugged, and Reliable
The 45MG is an advanced ultrasonic thickness gage packed with standard measurement features and software options. This unique instrument is compatible with the complete range of Olympus dual element and single element thickness gage transducers, making this innovative instrument an all-in-one solution for virtually every thickness gage application.
Standard Features
In its basic configuration the 45MG is a simple and straightforward gage that requires minimal operator training to tackle most common thickness gaging applications. With additional optional software options and transducers however, the 45MG can become significantly more advanced and take on applications well beyond that of a typical entry-level gage. Furthermore, most options are available individually at the time of purchase or can be added in the future as your needs change.
Compatible with full line of Olympus dual element transducers for thickness measurements on internally corroded metals.
Software Features:
Min./Max. mode
Two Alarm modes
Differential mode
Time-based B-scan
Reduction Rate
Gain Adjust (standard, high, and low)
Password instrument lock
Optional Features:
From a simple corrosion gage to a multi-purpose precision thickness gage with only a few key strokes. The 45MG offers five code-activated software options that makes it one of the most versatile thickness gages in the industry.
-Echo-to-Echo / THRU-COAT®: Using Echo-to-Echo, the true metal thickness is displayed and the thickness of the coating layer will be ignored. THRU-COAT measures metal and nonmetallic coating thicknesses, each adjusted for their correct sound velocities. There is no need to remove paint or coatings from surfaces. (This Option is Licensed!)
-Single Element: For very precise thickness measurements on many materials, including metals, plastics, composites, glass, and ceramics. Compatible with single element Microscan transducers ranging from 2.25 MHz to 30 MHz.
-Single Element High Penetration: For thickness measurement on thick or highly attenuating materials such as fiberglass or cast metals. Compatible with single element Microscan transducers ranging from 0.5 MHz to 30 MHz. Included is the Single Element option.
-Data Logger: The 45MG has a full-featured internal bidirectional alphanumeric data logger that is designed to easily store and transfer thickness readings and waveform data. Includes GageView™ interface program, a Windows-based application.
-Live A-scan with Waveform Adjust: This optional Live A-scan mode allows users to view the ultrasound waveform (or A-scan) directly on the gage's display, verify the thickness measurement, and make manual adjustments to gain and blanking settings to maximize measurement performance in challenging applications. This helpful option features Manual Gain Adjust, Extended Blanking, First Echo Blank, Range, and Delay.
Built for Tough Environments
Rugged, designed for IP67
-Explosive Atmosphere: Safe operation as defined by Class I, Division 2, Group D, as found in the National Fire Protection Association Code (NFPA 70), Article 500, and tested using MIL-STD-810G, Method 511.4, Procedure I.
-Shock tested using MIL-STD-810G, Method 516.5, Procedure I, 6 cycles each axis, 15 g, 11 msec Half sine.
-Vibration tested using MIL-STD-810G, Method 514.5, Procedure I, Annex C, Fig. 6, general exposure: 1 hour each axis.
-Wide operating temperature range
-Optional protective rubber boot with gage stand
Designed for Easy Operation
-Simple keypad for right hand/left hand operation
-Easy operator interface with direct access to most functions
-Internal and removable microSD memory card storage
-USB communication port
-Optional alphanumeric data logger with 475,000 thickness readings or 20,000 waveforms
-Default/Custom single element transducer setups (optional)
-Password protected instrument lock
-Color transflective QVGA display with indoor and outdoor color settings for superior clarity
IMAGES: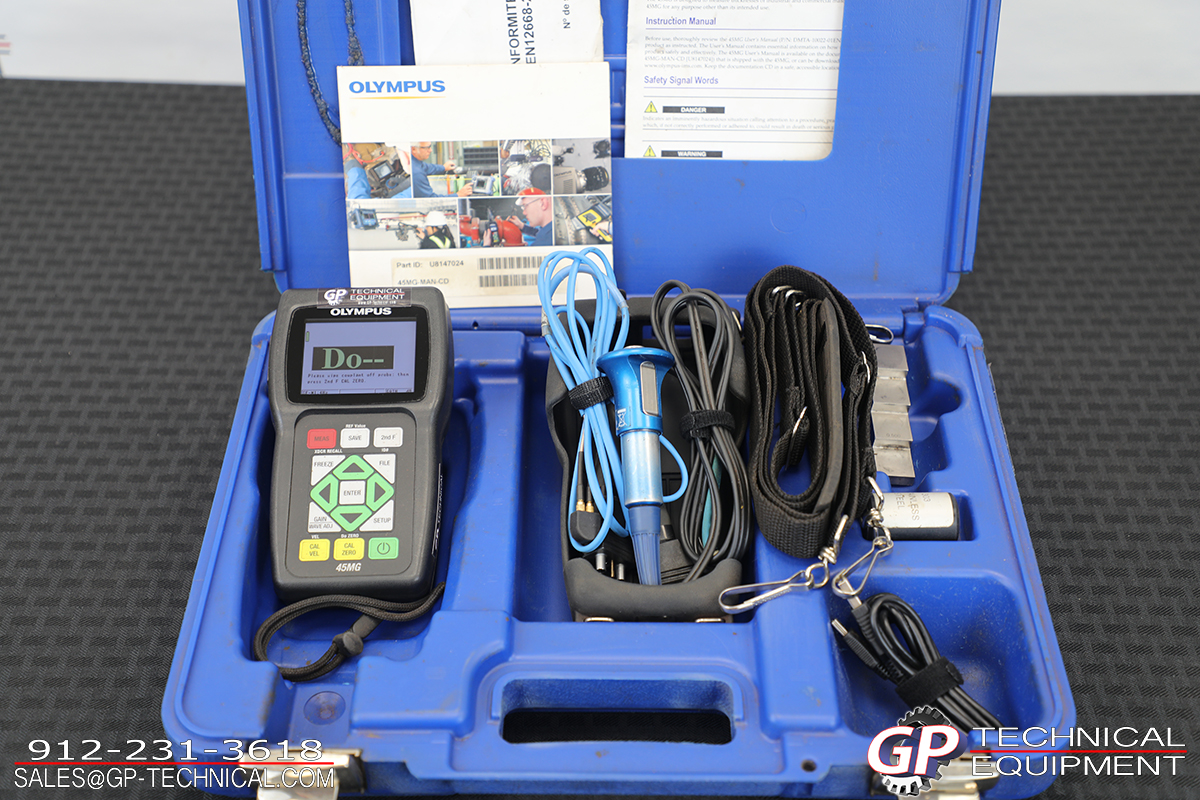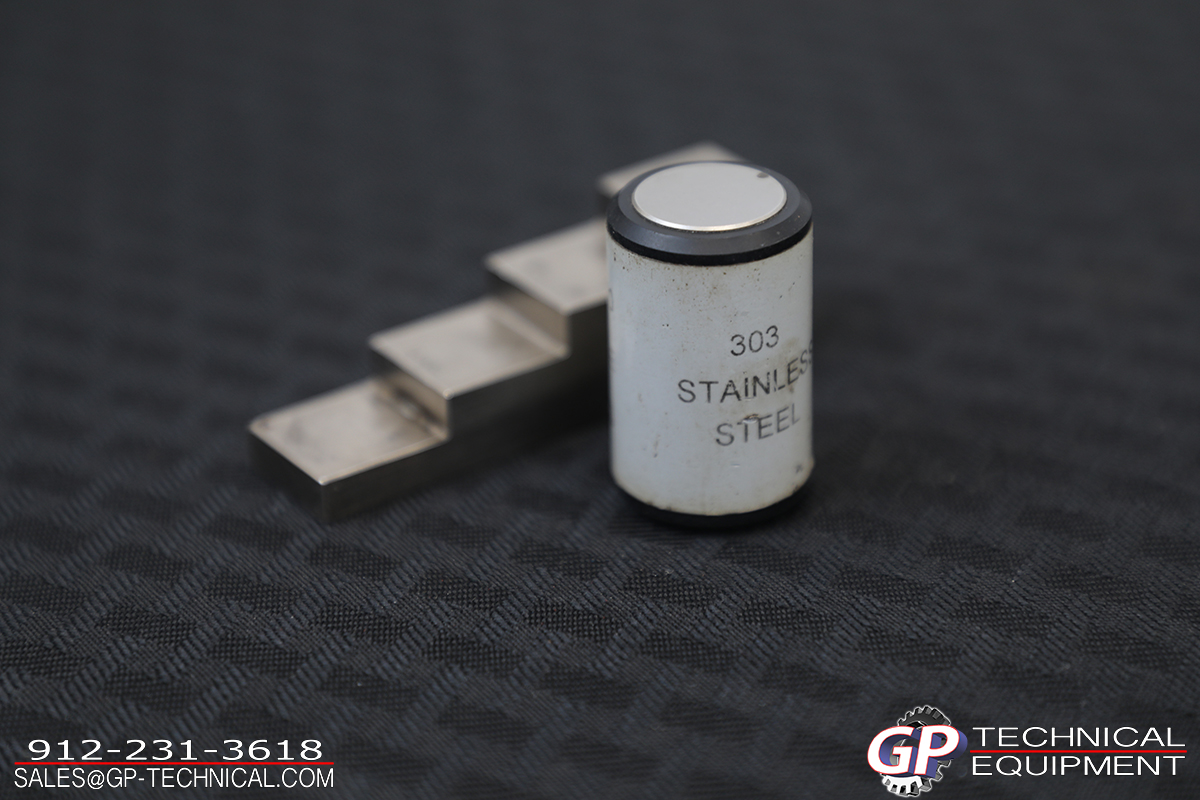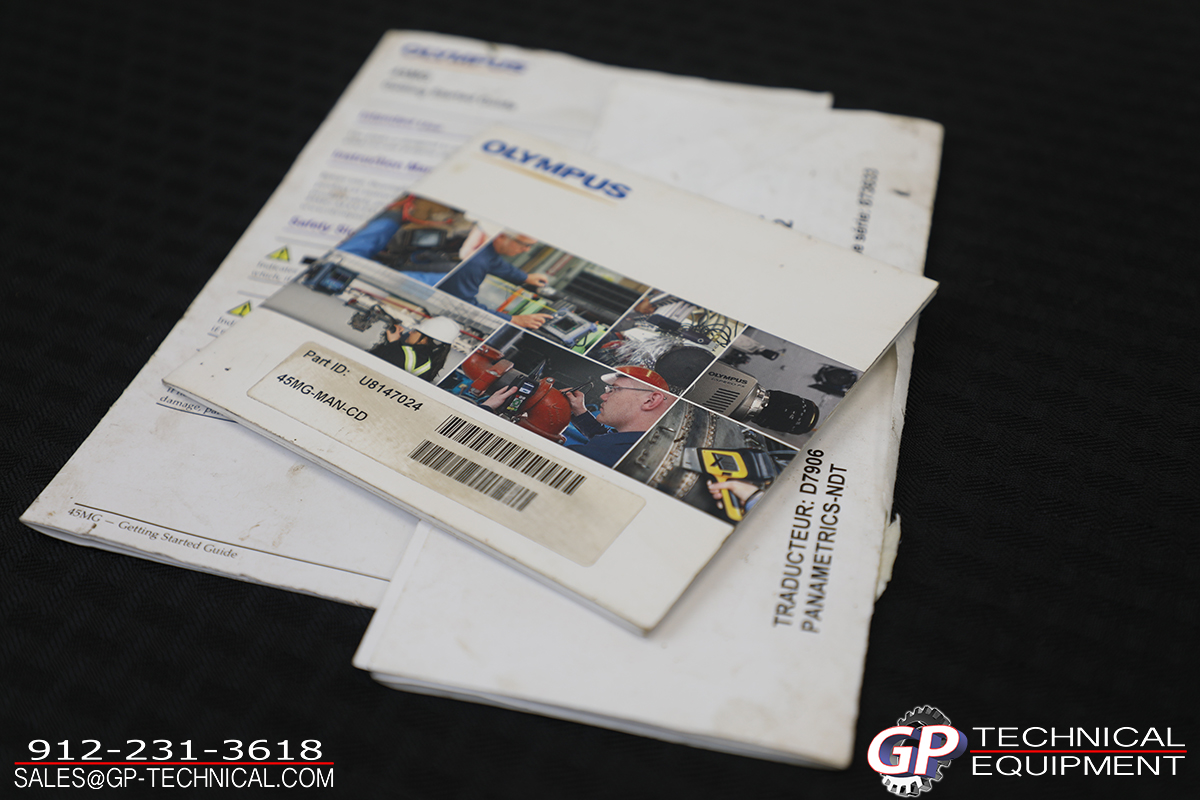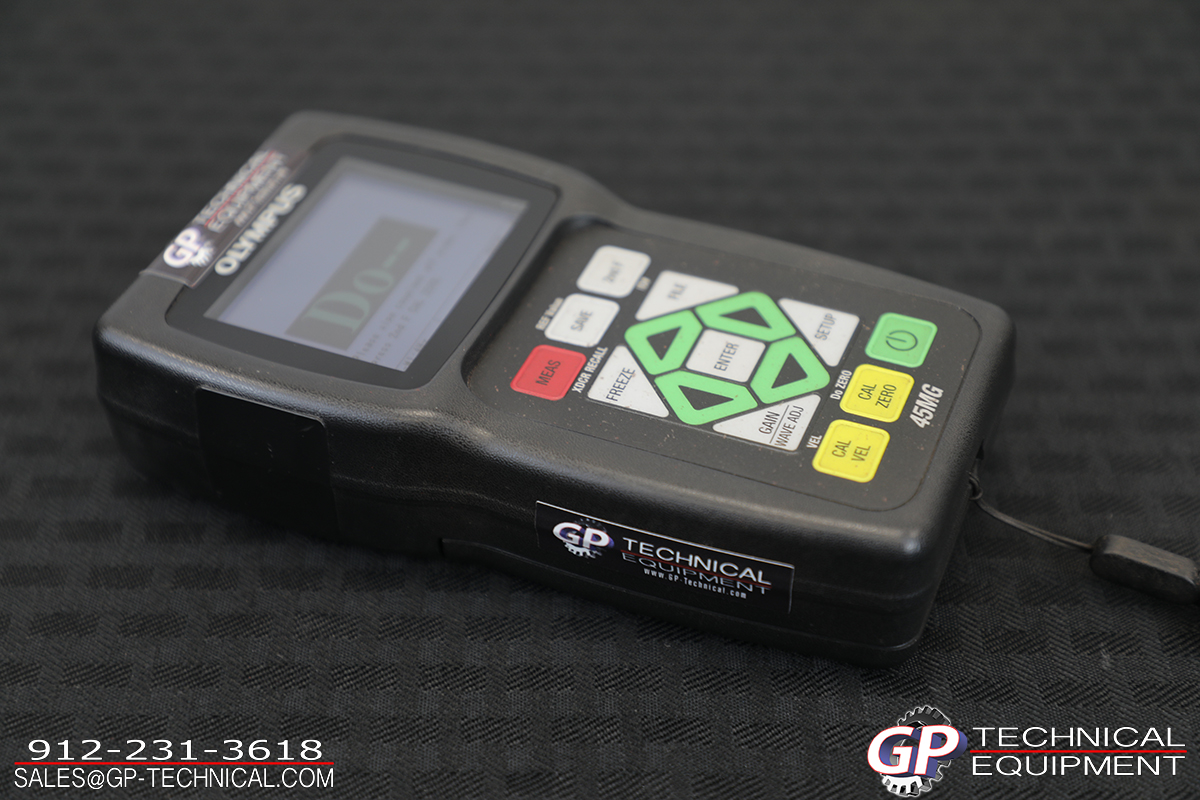 Trade Ins: We offer some of the highest prices on your used test equipment. We do partial trade ins or will buy your used equipment outright. An estimated trade in value will be assessed within 24 hours of receiving a value request.
Payment terms: We accept payment prior to shipping by Visa, MasterCard, AMEX, and Paypal (up to $10.000). Businesses and Universities, please call for payment options. Please notify us of method of payment in a timely fashion after the auction has ended. If a buyer has not made any attempt to contact us 7 days after this auction's end time we will assume they are forfeiting the auction and the item will no longer be available to them.
International Buyers: We reserve the right to accept or decline international Paypal and credit cards. International shipping is available, but clearing customs will often result in delivery delays.
Shipping Terms: Buyer pays for shipping and packaging for this item. International buyers will pay for shipping charges to their country.

* Shipping and handling fees are not refundable under any circumstances. In the case of a return, the buyer is responsible for all shipping fees.
* Shipping for international buyers will be invoiced separately from the purchased product due to the high expense of shipping charges.

* Your phone number is required for shipping purposes, so please provide it with all correspondence.
* Please note that calculated shipping is based on UPS. We also reserve the right to ship for the same cost via FedEx or other carriers.

Packaging: All items will be packaged with materials necessary to ensure that the equipment will be adequately protected from the shipping process.

Feedback:
We appreciate Positive feedback. We leave feedback as soon as we get feedback from you. If you have any problems with the sale, please try to resolve it with us before you leave us a Neutral or Negative feedback.
Warranty: No warranty is expressed or implied with any unit. All sales include a 3 day right of return (ROR). For any reason, within 72 hours of taking possession of the item, the buyer can return the item for a complete refund minus all shipping costs.
Return Policy: You can return the item for any reason within three days. We put great effort into thoroughly documenting each piece of equipment, typically with very detailed pictures and video clips. We strongly encourage you to study these images closely before you commit to purchasing the item. Please call or email us if you have any questions about anything that you are uncertain about. It is critical that you confirm that this item suites your needs within the three day return policy period. Any returns after two weeks will not be entertained, and we will automatically escalate to Ebay. If you choose to open an Ebay return case, and we are forced to accept the return, you are responsible for the following:
*Return Shipping and insurance of the item to our Store at the following address:

*A Restocking fee of 10% of the purchase price for every week (after the initial 3 day return period) that the item is in your possession, not to exceed two weeks.