Description
Olympus Epoch 600 Ultrasonic Flaw Detector
Stock #221101C
Included with Sale
-Olympus Epoch 600 Unit
-Hard Padded Transport Case
-Lithium Ion Battery
-Charger and AC Cable
-Calibration Paperwork
About the Unit:
The EPOCH 600 Digital Ultrasonic Flaw Detector combines Olympus' industry leading conventional flaw detection capabilities with the efficiency of a highly portable, intuitive instrument. The EPOCH 600 flaw detector's blend of efficient menus and direct access keys allows you to take advantage of the highest quality flaw detection platform with exceptional ease of use.
The large, full VGA transflective display combined with our patent-pending digital high dynamic range receiver provides a stable, striking A-scan representation in any lighting condition. Available in two hardware configurations, the EPOCH 600 offers you the choice to adjust parameters with a knob or with a navigation area on the keypad. The EPOCH 600 is designed to meet the requirements of EN12668-1 and allows a full range of standard and optional flaw detection features. The rugged, ergonomic design allows use in nearly any inspection environment, while the flexible PerfectSquare™ pulser and digital filtering capabilities can tackle nearly any application.
Key Features
■ Designed to meet the requirements of EN12668-1
■ PerfectSquare™ tunable square wave pulser
■ Digital high dynamic range receiver
■ Eight digital filters for enhanced signal-to-noise ratio
■ 2 kHz PRF for rapid scanning
■ Knob or navigation pad adjustment configurations
■ Large, full VGA sunlight readable display
■ Long battery life, supporting lithium-ion or alkaline batteries
■ Standard dynamic DAC/TVG and onboard DGS/AVG
■ 2 GB MicroSD memory card for data transfers and storage
■ USB On-The-Go (OTG) for PC communication
■ Alarm and VGA outputs
■ Optional analog output
Economy with Quality
The EPOCH 600 combines the efficiency of a basic flaw detector with the quality of Olympus' most powerful fully digital ultrasonic instruments. A full range of dynamic, reliable inspection features are packaged with economy of size and ease of use. This optimal balance brings powerful flaw detection features within reach of any level of inspector.
Simple and Durable Operation
The EPOCH 600 design is focused on providing a very high level of flaw detection with the simplicity of a basic instrument. The EPOCH 600 is designed to be ergonomic, intuitive, and practical for both experienced and novice ultrasonic inspectors.
Intuitive User Interface
The EPOCH 600 user interface is based on the industry approved EPOCH 1000 Series imaging flaw detector. The EPOCH 600 combines a simple menu structure for instrument settings, calibration and software feature adjustment, with the EPOCH brand's hallmark direct-access key approach for critical inspection functions such as gain and gate adjustment, screen freeze, and file save. Supported in multiple languages, the EPOCH 600 user interface is intuitive for any level of operator.
Portable Design for All Inspection Environments
The EPOCH 600 is designed for use in nearly any inspection environment, from bench top testing in a laboratory to extreme outdoor and hazardous conditions. Designed for IP rating in either knob (IP66) or navigation pad (IP67) configurations, and tested to very high environmental and reliability standards, the EPOCH 600 allows users in any inspection environment to feel confident in both the performance and durability of the instrument. The instrument is tested for vibration, shock, explosive atmosphere, and wide temperature ranges. And with a battery life to exceed 12 hours, the EPOCH 600 is the perfect solution for remote inspection locations.
Vibrant Full VGA Display
The EPOCH 600 features a full VGA (640 x 480 pixels) resolution display. The horizontal design of the EPOCH 600 optimizes the A-scan size and readability on this high quality display. Built with transflective technology, this VGA display provides excellent clarity in indoor, low lighting conditions using its powerful backlight, as well as in direct sunlight by using the ambient light as a pseudo-backlight.
** This unit has a Navigation Pad
------------------------------------------------------------------------
Detailed Images Below
------------------------------------------------------------------------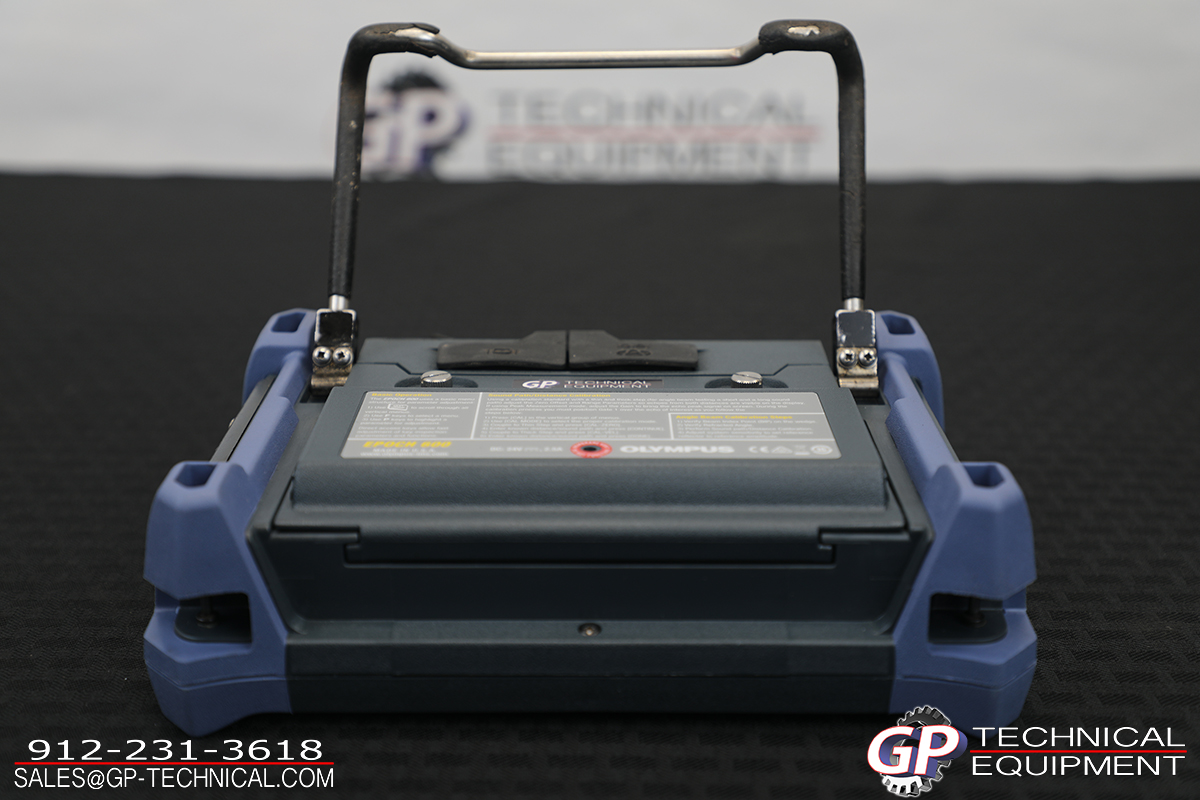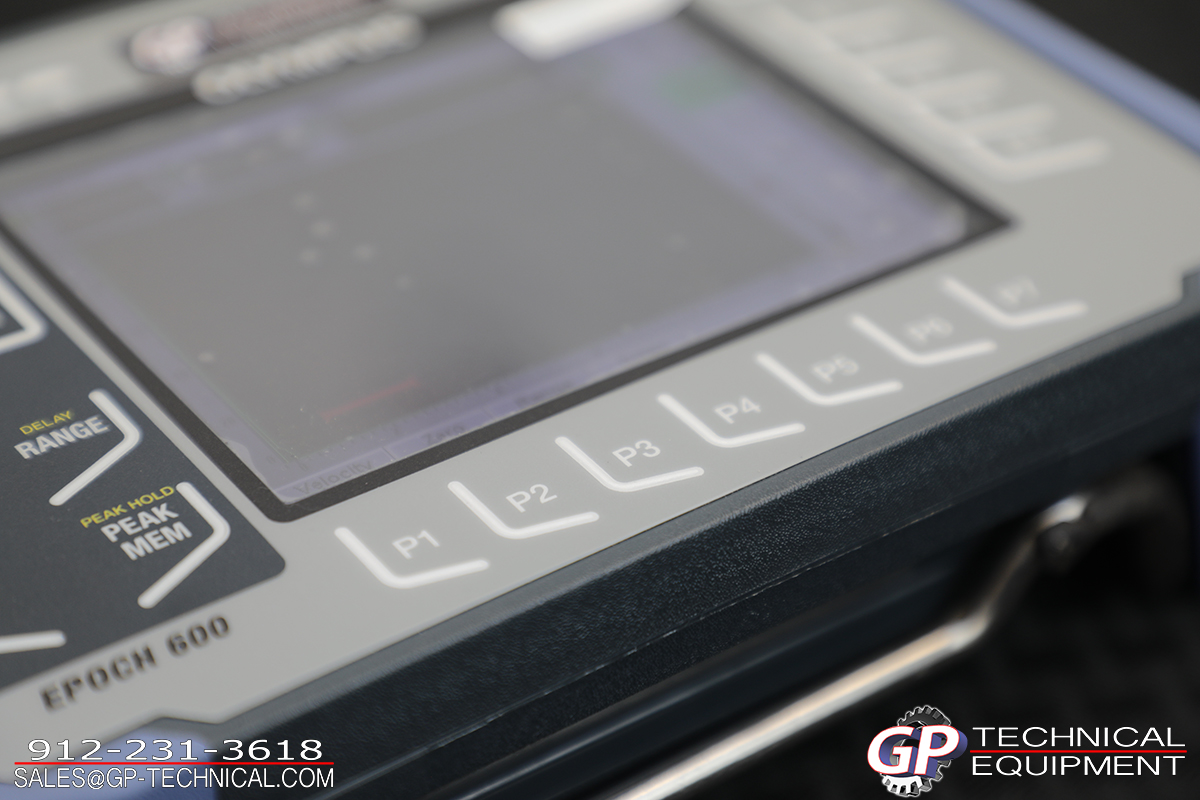 Trade Ins: We offer some of the highest prices on your used test equipment. We do partial trade ins or will buy your used equipment outright. An estimated trade in value will be assessed within 24 hours of receiving a value request.
Payment terms: We accept payment prior to shipping by Visa, MasterCard, AMEX, and Paypal (up to $10.000). Businesses and Universities, please call for payment options. Please notify us of method of payment in a timely fashion after the auction has ended. If a buyer has not made any attempt to contact us 7 days after this auction's end time we will assume they are forfeiting the auction and the item will no longer be available to them.
International Buyers: We reserve the right to accept or decline international Paypal and credit cards. International shipping is available, but clearing customs will often result in delivery delays.
Shipping Terms: Buyer pays for shipping and packaging for this item. International buyers will pay for shipping charges to their country.
* Shipping and handling fees are not refundable under any circumstances. In the case of a return, the buyer is responsible for all shipping fees.
* Shipping for international buyers will be invoiced separately from the purchased product due to the high expense of shipping charges.
* Your phone number is required for shipping purposes, so please provide it with all correspondence.
* Please note that calculated shipping is based on UPS. We also reserve the right to ship for the same cost via FedEx or other carriers.
Packaging: All items will be packaged with materials necessary to ensure that the equipment will be adequately protected from the shipping process.
Feedback: We appreciate Positive feedback. We leave feedback as soon as we get feedback from you. If you have any problems with the sale, please try to resolve it with us before you leave us a Neutral or Negative feedback.
Warranty: No warranty is expressed or implied with any unit. All sales include a 3 day right of return (ROR). For any reason, within 72 hours of taking possession of the item, the buyer can return the item for a complete refund minus all shipping costs.
Return Policy: You can return the item for any reason within three days. We put great effort into thoroughly documenting each piece of equipment, typically with very detailed pictures and video clips. We strongly encourage you to study these images closely before you commit to purchasing the item. Please call or email us if you have any questions about anything that you are uncertain about. It is critical that you confirm that this item suites your needs within the three day return policy period. Any returns after two weeks will not be entertained, and we will automatically escalate to Ebay. If you choose to open an Ebay return case, and we are forced to accept the return, you are responsible for the following:
*Return Shipping and insurance of the item to our Store at the following address:
*A Restocking fee of 10% of the purchase price for every week (after the initial 3 day return period) that the item is in your possession, not to exceed two weeks.