Description
Olympus IPLEX LX 6mm/3.5m Videoscope
Stock #211110A
Included with Sale
-IPLEX LX 6mm/3.5m Unit
-Hard Padded Transport Case
-2 Lithium Ion Batteries
-Smart Charger and AC Power Adapter
-Side & Foward View Tips w/Case
Specifications:
Convenient Portability
Equipped with a removable Li-ion battery, the IPLEX LX and LT are ready for use wherever the inspection takes place. Whether the operator is crawling in confined spaces or working stationary in an aircraft hangar, the IPLEX LX and LT keep the size small without sacrificing features or functionality.
Compact and Lightweight
The IPLEX LX and LT feature a compact and lightweight design, and even the model with 10m-long scope weighs just 3.9 kg, including the integrated Li-ion battery. They can be worn or carried with ease and set up almost instantly. The complete system, including all accessories and carrying case, is easily transported to job sites and small enough to fit in the overhead compartment of most aircraft.
Small Size, Large Monitor
Despite being only 227 mm (8.9 in.) wide and 189 mm (7.4 in.) tall, the IPLEX LX and LT integrate a surprisingly large 6.5 in. monitor for exceptional visibility, whether at arm's length or across a workbench. At less than 100 mm thick including the pivoting handle/stand, the IPLEX LX and LT can be worn, stand upright, or be fastened to a tripod or mounting arm for operation in practically any environments.
Unsurpassed Ease of Use
With their intuitive icon-based menu system, the IPLEX LX and LT require minimal or no training and can be easily operated by users of any experience level. Almost every menu and feature can be accessed by a maximum of three presses on the quick-access control buttons. And the TrueFeel scope tip articulation achieves easy and precise control.
Choice of Connection and Positioning
The handheld controller can be operated either independently or attached to the main unit during inspections, offering a versatile choice of operation. The stand-alone monitor can always be positioned for optimum viewing and is also convenient for group inspections and training.
Innovative Features at Operator Fingertips
The ergonomic lightweight handset with TrueFeel articulation control has been engineered for comfortable operation even during prolonged inspections. The user can operate diverse functions and scope tip articulations easily, quickly, and precisely.
One-handed scope control and interface
The controller maximizes the use of buttons, levers, and joystick for quick access to all essential menu functions. Image enhancements, recording buttons, and measurement capabilities are among the many basic-to-advanced features at the operator's fingertips.
Intuitive Icon-Based Menus
The IPLEX LX and LT feature a simple menu, utilizing intuitive, internationally recognized icons that make it easy for the operator to quickly choose the right menu option. Navigation is simplified by a dedicated joystick, which functions independently from the scope tip articulation.
Rugged Durability
The durability and environmental resistance of the IPLEX LX and LT provides exceptional reliability even in harsh environments. Whether you're conducting inspections outdoors in a variety of weather conditions, in a dusty or sandy climate, or in manufacturing areas, you can depend on the IPLEX LX and LT to function reliably in any surroundings.
All Weather Resistance
You can confidently bring the IPLEX LX and LT to almost any difficult environment. They can be used in rain, sand, and dust, and withstand physical shocks caused by drops and falls, ensured by IP55 compliance. With its low-reflection display, the daylight-view monitor reproduces clear, vivid images even under the brightest sunlight.
Solid Scope Performance for Demanding Applications
High durability tungsten braid
The crush-proof insertion tubes of the IPLEX LX and LT are equipped with an innovative fine mesh tungsten outer braid that results in outstanding abrasion resistance. The tube's strength combined with its flexibility allows operation in the most difficult and hazardous inspection areas.
The IPLEX LX and LT are designed with the unique Tapered Flex achieving superb scope maneuverability with optimized stiffness and flexibility. The increased stiffness of the new 8.5 mm scope allows it to be easily pushed deep into an inspection area without the use of a guide tube, making it ideal for long pipe inspections.
Viewing Capability
Building on decades of experience in optical imaging, the innovative IPLEX LX and LT design provides superb image quality of inspected objects.
Excellent color reproduction and superb clarity
The industry-leading 6.5 in. daylight-view monitor is larger than comparable videoscopes on the market, always allowing for a comfortable viewing position and convenience for group viewing. Superb image clarity permits the accurate detection of very small defects.
Ultra-Bright, Interchangeable LED Tip adapters
For optimum magnification and direction suitable for a variety of inspection environments, the IPLEX LX and LT offer a comprehensive range of interchangeable optical adaptors. The integrated LED illumination system brightly lights targets.For inspection of large voids where plenty of light is required,the 8.5mm scope is an ideal solution. Fitted within the scope tip, it delivers vivid illumination regardless of scope length and eliminates the need for a fiber light guide.
Image Management
The versatile IPLEX LX and LT offer far more than just on-site inspection. From image archiving to defect measurement and image management on a PC, post inspection tasks are made easier after returning from the inspection site.
High-Quality Images and Movies
The IPLEX LX and LT feature high-quality JPEG still images and MPEG-4 movies that record into a removable USB flash drive. Saving or retrieving images requires only a single button press, and the thumbnail view makes it easy to instantly review the inspection results.
Never before has a compact videoscope system offered such high-quality recording while retaining ease of use.
Title Input Function
For off-site inspection efficiency and report generation, the IPLEX LX and LT let you quickly and easily input titles in captured images. You can quickly identify the inspection location or result through the title to assist in archiving images.
InHelp Inspection Assist Software
InHelp, the optional inspection data management and reporting software streamlines many aspects of remote visual inspections with the IPLEX. The software greatly improves work efficiency and simplifies inspections by organizing stored images on the IPLEX and generating detailed inspection reports on a PC with simple click-operation.
Wireless LAN capability ready*
*Confirmed with Toshiba FlashAir Wireless LAN SD card
Protection for Interior Components
The main unit's removable USB flash drive and Li-ion battery are contained inside a latched, sealed compartment for protection against environmental hazards and rough treatment.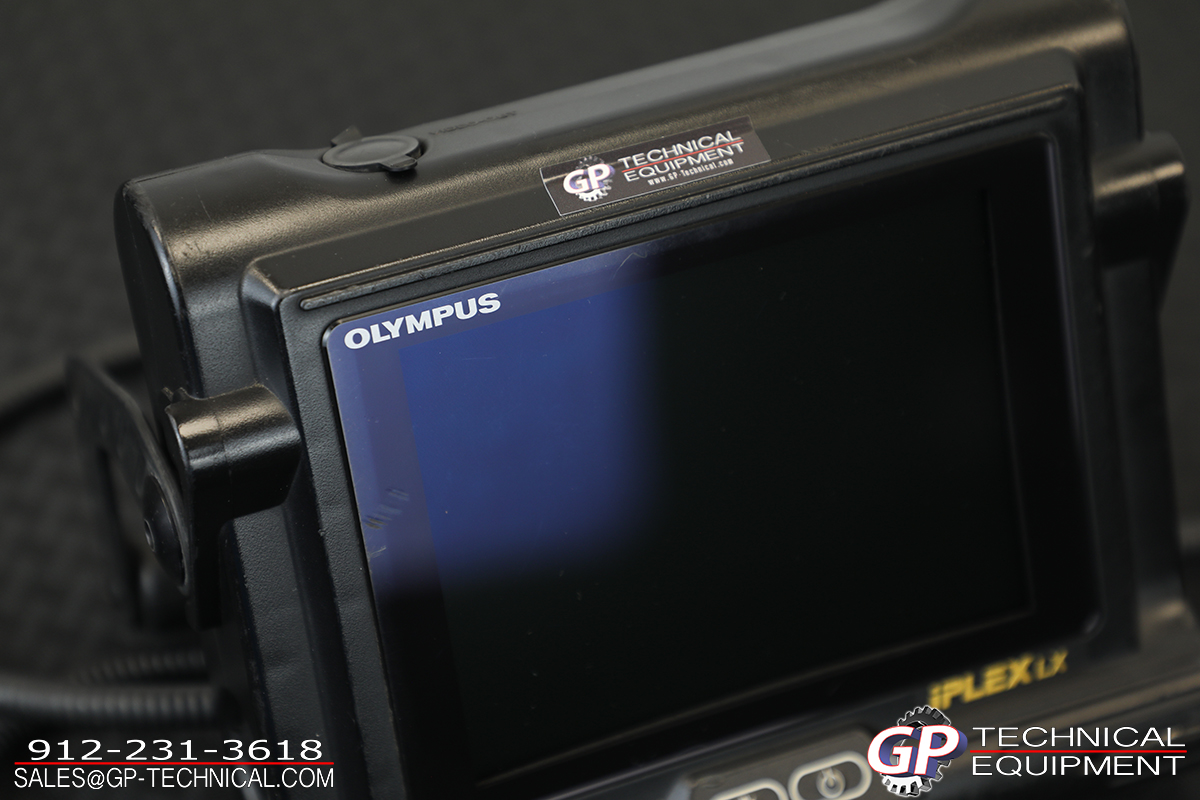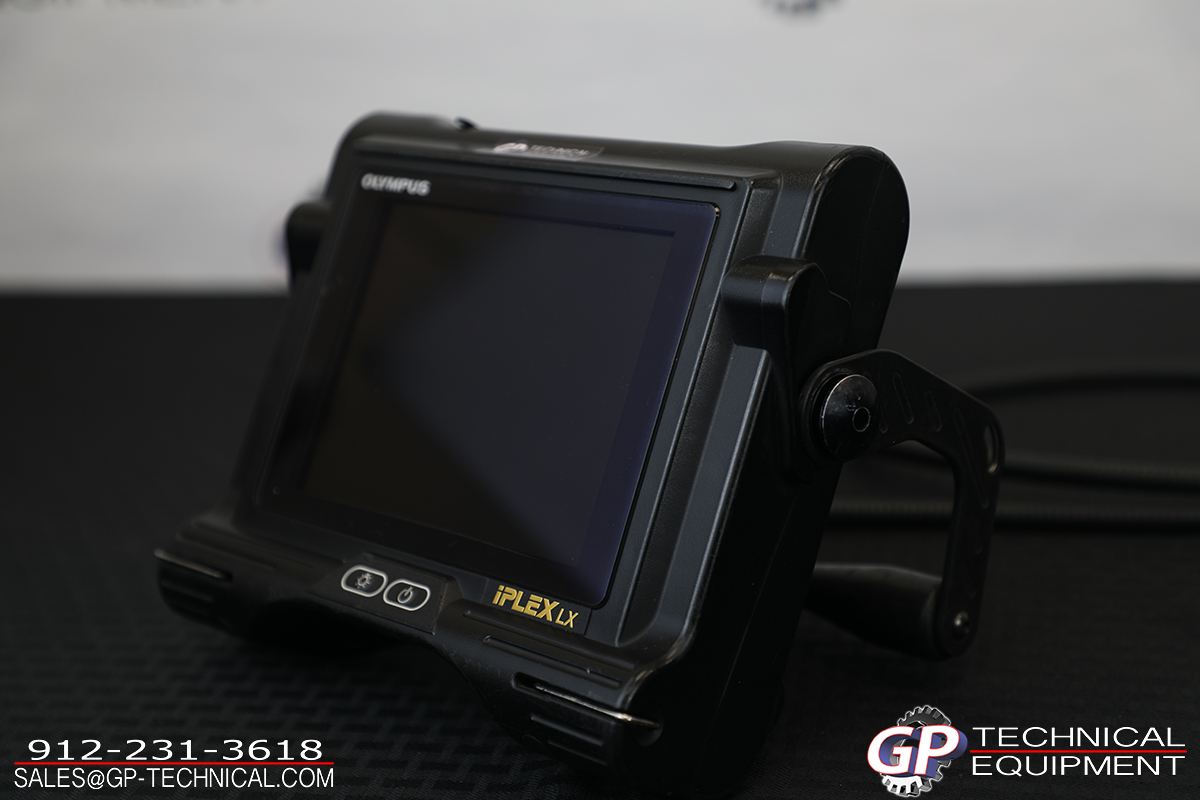 Trade Ins: We offer some of the highest prices on your used test equipment. We do partial trade ins or will buy your used equipment outright. An estimated trade in value will be assessed within 24 hours of receiving a value request.
Payment terms: We accept payment prior to shipping by Visa, MasterCard, AMEX, and Paypal (up to $10.000). Businesses and Universities, please call for payment options. Please notify us of method of payment in a timely fashion after the auction has ended. If a buyer has not made any attempt to contact us 7 days after this auction's end time we will assume they are forfeiting the auction and the item will no longer be available to them.
International Buyers:
We reserve the right to accept or decline international Paypal and credit cards. International shipping is available, but clearing customs will often result in delivery delays.
Shipping Terms: Buyer pays for shipping and packaging for this item. International buyers will pay for shipping charges to their country.

* Shipping and handling fees are not refundable under any circumstances. In the case of a return, the buyer is responsible for all shipping fees.
* Shipping for international buyers will be invoiced separately from the purchased product due to the high expense of shipping charges.

* Your phone number is required for shipping purposes, so please provide it with all correspondence.
* Please note that calculated shipping is based on UPS. We also reserve the right to ship for the same cost via FedEx or other carriers.

Packaging: All items will be packaged with materials necessary to ensure that the equipment will be adequately protected from the shipping process.

Feedback:
We appreciate Positive feedback. We leave feedback as soon as we get feedback from you. If you have any problems with the sale, please try to resolve it with us before you leave us a Neutral or Negative feedback.
Warranty: No warranty is expressed or implied with any unit. All sales include a 3 day right of return (ROR). For any reason, within 72 hours of taking possession of the item, the buyer can return the item for a complete refund minus all shipping costs.
Return Policy: You can return the item for any reason within three days. We put great effort into thoroughly documenting each piece of equipment, typically with very detailed pictures and video clips. We strongly encourage you to study these images closely before you commit to purchasing the item. Please call or email us if you have any questions about anything that you are uncertain about. It is critical that you confirm that this item suites your needs within the three day return policy period. Any returns after two weeks will not be entertained, and we will automatically escalate to Ebay. If you choose to open an Ebay return case, and we are forced to accept the return, you are responsible for the following:
*Return Shipping and insurance of the item to our Store at the following address:

*A Restocking fee of 10% of the purchase price for every week (after the initial 3 day return period) that the item is in your possession, not to exceed two weeks.