Description
Olympus IPLEX Ultralite 6mm/3.5m Videoscope
Stock #220624G
Included with Sale
-6mm/3.5m IPLEX Ultralite Unit
-Hard Padded Transport Case
-2 Lithium Ion Batteries
-Charger for Ultralite Battery
-Power Adapter for Ultralite
-Tip Case
**various tips available upon request**
Specifications:
The palm-sized IPLEX Ultralite industrial videoscope, weighing just 700 g, delivers high quality images. Its compact, durable body enables inspections in tough and confined areas. A rugged insertion tube offers quick and accurate articulation.
With its durable design and improved performance that allows it to be used in diverse environments, the IPLEX UltraLite is the industry's choice in handheld remote visual inspections.
Surprisingly compact and lightweight
The IPLEX UltraLite weighs only 700 g (1.5 lb) with its lithium-ion battery. This easy-to-use videoscope is so small and light that it is the perfect companion for the inspector who works in areas with limited access or in cramped spaces or has to navigate narrow stair cases and steep ladders.
Palm-sized ergonomic design
The ergonomic IPLEX UltraLite fits snugly into the palm of your hand, and provides speedy, fatigue-free operation even during prolonged inspections.
Outstanding Usability
The IPLEX UltraLite offers intuitive manipulations for efficient, accurate inspections.
Icon-based menus for instant recognition and intuitive operations
IPLEX UltraLite menus feature simple, intuitive icons that let you quickly identify and activate the desired functions.
Quick-access hot buttons
IPLEX UltraLite eliminates complicated menu settings. The IPLEX UltraLite functions can be easily operated with just one hand. By pressing dedicated, direct-access keys, you can quickly articulate the scope tip, record images, adjust brightness, and input text.
Quick, precise scope articulation
The IPLEX UltraLite features quick, accurate articulation. The scope tip instantly and accurately responds to the articulation control and approaches targets precisely, enabling fast, efficient inspections.
Outstanding Quality
With its innovative, compact design, the IPLEX UltraLite offers uncompromising, industry-leading durability and image quality.
Durable chassis withstands drops and falls
The IPLEX UltraLite's durability has been thoroughly proven. It passes our 1.2 m (3.9 ft) drop test, and withstands inspection-site drops and falls. The LCD monitor is equipped with a very strong and durable glass, passing a steel-ball drop test compliant with the international standard, IEC-61010.
Rugged design for reliable operation in harsh environments
Operators are often called on to conduct inspections in difficult environments. The IPLEX UltraLite stands up to rain, sand and dust, and is compliant with IP55. Ideal for outdoor inspections, the IPLEX UltraLite faithfully produces brilliant images, even in sunlight.
Insertion tube resists crushing and abrasion
The IPLEX UltraLite's insertion tube is both crush and abrasion-resistant. It is also designed with unique Olympus Tapered Flex technology* for outstanding scope maneuverability. With its durability and graduated flexibility, the IPLEX UltraLite insertion tube enables you to inspect objects inside winding and rough paths.
Sharp live-image and clear movies for reliable observation and analysis
When it comes to remote visual inspections, image quality is one of the highest priorities. The IPLEX UltraLite is equipped with our unique Olympus image processor, and produces sharp and clear images. Along with its superb color-reproducing capability, the IPLEX UltraLite enables you to accurately detect even small defects.
Observed images can be stored in a connected SD or SDHC card as high-quality JPEG still images and MPEG-4 movies.
Outstanding Functionality
The IPLEX UltraLite now offers several new hardware and software features to enhance the efficiency and accuracy of your inspections and analysis.
Extra-bright illumination with versatile optical adapters
For optimal direction and magnification covering various types of objects, the IPLEX UltraLite offers a comprehensive range of interchangeable optical tip adapters.The bright LED mounted on the tip adapters clearly illuminates targets. In addition, Hi-Beam mode is newly equipped on the IPLEX UltraLite, which boosts illumination up to 2X for expanded inspection capability.
InHelp Inspection Assist Software
InHelp, the optional inspection data management and reporting software streamlines many aspects of remote visual inspections with the IPLEX. The software greatly improves work efficiency and simplifies inspections by organizing stored images on the IPLEX and generating detailed inspection reports on a PC with simple click-operation.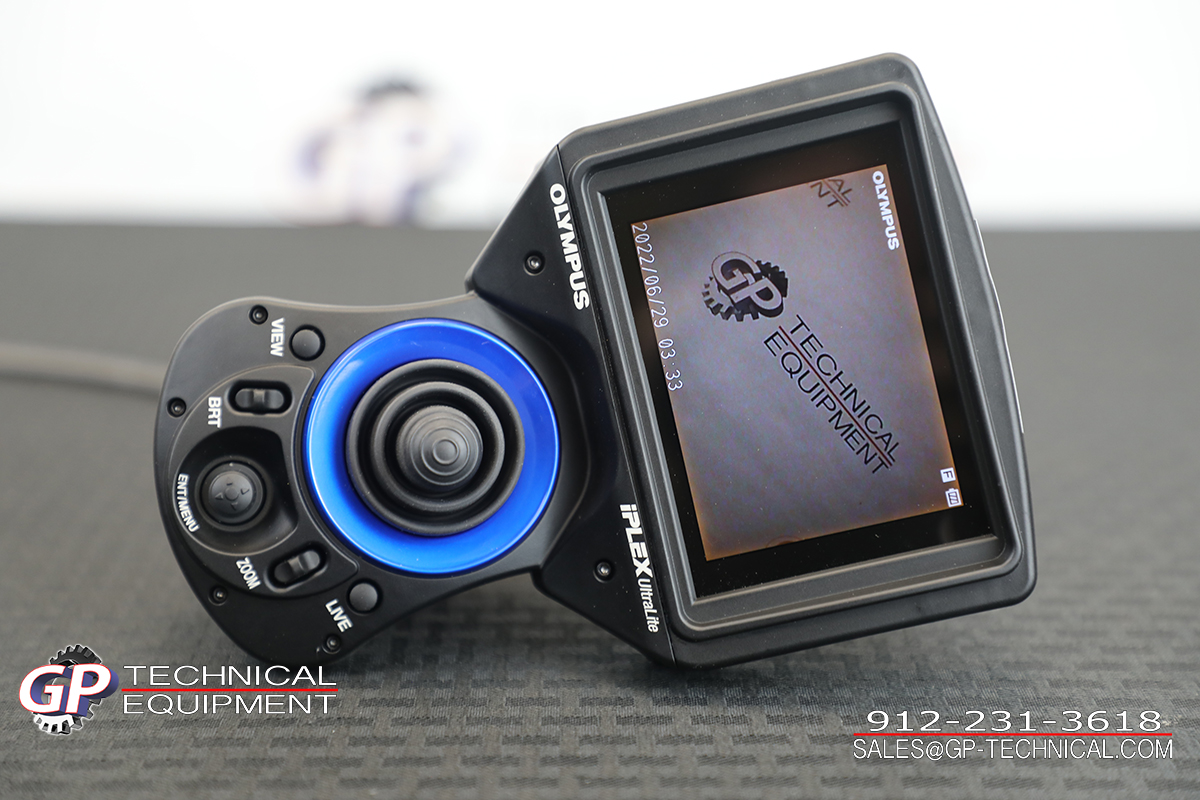 Trade Ins: We offer some of the highest prices on your used test equipment. We do partial trade ins or will buy your used equipment outright. An estimated trade in value will be assessed within 24 hours of receiving a value request.
Payment terms: We accept payment prior to shipping by Visa, MasterCard, AMEX, and Paypal (up to $10.000). Businesses and Universities, please call for payment options. Please notify us of method of payment in a timely fashion after the auction has ended. If a buyer has not made any attempt to contact us 7 days after this auction's end time we will assume they are forfeiting the auction and the item will no longer be available to them.
International Buyers:
We reserve the right to accept or decline international Paypal and credit cards. International shipping is available, but clearing customs will often result in delivery delays.
Shipping Terms: Buyer pays for shipping and packaging for this item. International buyers will pay for shipping charges to their country.

* Shipping and handling fees are not refundable under any circumstances. In the case of a return, the buyer is responsible for all shipping fees.
* Shipping for international buyers will be invoiced separately from the purchased product due to the high expense of shipping charges.

* Your phone number is required for shipping purposes, so please provide it with all correspondence.
* Please note that calculated shipping is based on UPS. We also reserve the right to ship for the same cost via FedEx or other carriers.

Packaging: All items will be packaged with materials necessary to ensure that the equipment will be adequately protected from the shipping process.

Feedback:
We appreciate Positive feedback. We leave feedback as soon as we get feedback from you. If you have any problems with the sale, please try to resolve it with us before you leave us a Neutral or Negative feedback.
Warranty: No warranty is expressed or implied with any unit. All sales include a 3 day right of return (ROR). For any reason, within 72 hours of taking possession of the item, the buyer can return the item for a complete refund minus all shipping costs.
Return Policy: You can return the item for any reason within three days. We put great effort into thoroughly documenting each piece of equipment, typically with very detailed pictures and video clips. We strongly encourage you to study these images closely before you commit to purchasing the item. Please call or email us if you have any questions about anything that you are uncertain about. It is critical that you confirm that this item suites your needs within the three day return policy period. Any returns after two weeks will not be entertained, and we will automatically escalate to Ebay. If you choose to open an Ebay return case, and we are forced to accept the return, you are responsible for the following:
*Return Shipping and insurance of the item to our Store at the following address:

*A Restocking fee of 10% of the purchase price for every week (after the initial 3 day return period) that the item is in your possession, not to exceed two weeks.