Description
Olympus Magnamike 8600 Thickness Gage Kit
Stock #221228B
Included with Sale
-Magnamike 8600 Unit
-Magnamike 86-PR Probe
-Hard Transport Case
-Lithium Ion Battery
-Charger and AC Cable
About the Unit:
Magna-Mike 8600
The Magna-Mike® 8600 is a portable thickness gage that uses a simple magnetic method to make reliable and repeatable measurements on nonferrous materials. Operation of the Magna-Mike is very simple. Measurements are made when its magnetic probe is held or scanned on one side of the test material and a small target ball (or disk or wire) is placed on the opposite side or dropped inside a container. The probe's Hall Effect sensor measures the distance between the probe tip and target ball. The measurements are instantly displayed on the large color thickness display as an easy-to-read digital thickness reading.
New Features:
* Three new durable probe designs:
--Straight, Right Angle, and Low-profile Articulating
* Replaceable Wear Caps
--Standard, Chisel tip, and Extended Wear (for 86PR-1 and 86PR-2 only)
* Expanded target selection
--3/16 and 1/4 in. magnetic target balls
--0.045 in. (1.14 mm) 0.026 in. (0.66 mm) diameter wire target
* Expanded thickness range up to 25.4 mm (1.00 in.)
* Larger Color VGA display
* RS-232, USB and VGA outputs
* Fast Measurement update rate 60 Hz
* Expanded alphanumeric data logger
* Save and Recall stored calibration files
* Ability to export file to MicroSD card in .txt and CSV formats
* New accessory kits (Calibration kits)
--Standard up to 9.1 mm (0.360 in.)
--Extended range up to 25.4 mm (1 in.)
--Disk kit
--Wire target kit
--Low-profile probe kit
Three New Probe Designs
The Magna-Mike is available with straight, right angle, and low-profile articulating magnetic probes. The 86PR-1 and 86PR-2 feature replacable wear cap to extend the probe's durability and reduce replacement costs.
Internal Alphanumeric Data Logger
The Magna-Mike® has an extensive file-based alphanumeric data logger that is designed to easily store and transfer thickness readings.
You have the ability to store thickness readings in one of four standard file formats: Incremental, Sequential, Sequential with Custom Point and 2-D Grid.
-Single Send or File Send directly to an Excel spread sheet using WINXL
-Send data to other SPC program
-Both USB and RS-232 outputs
-Export files to a removable MicroSD card in .txt and CSV formats
-Generate on-board reports
Direct Interface to Excel Spread Sheets
The Magna-Mike 8600 has RS-232 and USB outputs that enable the instrument to directly send data to an Excel spread sheet. The included WINXL interface program enables you to single send or file send thickness readings
Applications:
Plastic and Glass Bottles and Packaging
In applications such as plastic containers, simply drop the small target ball inside the container. The magnetic probe held on the outside of the container attracts the target ball. When scanning the probe along the surface or critical corners, the small steel target ball will follow. In the Minimum Mode feature, the gage continually displays both the actual thickness and the lowest thickness reading.
Automotive Tear Seams
The standard probe along with one of the two target disks and a replaceable chisel wear cap makes the Magna-Mike 8600 ideally suited for most automotive tear seam applications where measurements need to made in a thin channel or groove.
Aerospace and Other Applications
The Magna-Mike has been successfully integrated into quality control programs to measure aerospace parts made of composites and nonferrous materials. The wire targets can be inserted into cooling holes in turbine blades and the larger magnetic target balls can be used to measure jet engine parts up to 25.4 mm (1.00 in.) thick.
------------------------------------------------------------------------
Detailed Images Below
------------------------------------------------------------------------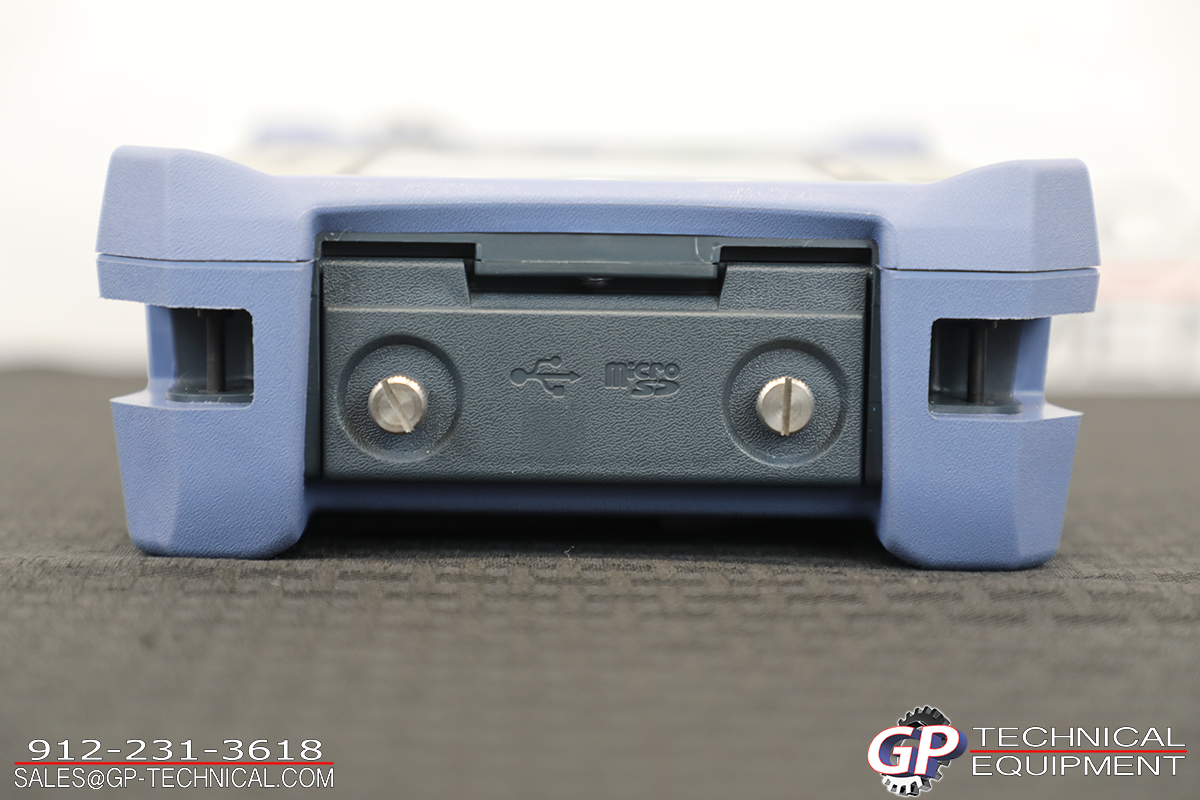 Trade Ins: We offer some of the highest prices on your used test equipment. We do partial trade ins or will buy your used equipment outright. An estimated trade in value will be assessed within 24 hours of receiving a value request.
Payment terms: We accept payment prior to shipping by Visa, MasterCard, AMEX, and Paypal (up to $10.000). Businesses and Universities, please call for payment options. Please notify us of method of payment in a timely fashion after the auction has ended. If a buyer has not made any attempt to contact us 7 days after this auction's end time we will assume they are forfeiting the auction and the item will no longer be available to them.
International Buyers:
We reserve the right to accept or decline international Paypal and credit cards. International shipping is available, but clearing customs will often result in delivery delays.
Shipping Terms: Buyer pays for shipping and packaging for this item. International buyers will pay for shipping charges to their country.

* Shipping and handling fees are not refundable under any circumstances. In the case of a return, the buyer is responsible for all shipping fees.
* Shipping for international buyers will be invoiced separately from the purchased product due to the high expense of shipping charges.

* Your phone number is required for shipping purposes, so please provide it with all correspondence.
* Please note that calculated shipping is based on UPS. We also reserve the right to ship for the same cost via FedEx or other carriers.

Packaging: All items will be packaged with materials necessary to ensure that the equipment will be adequately protected from the shipping process.

Feedback:
We appreciate Positive feedback. We leave feedback as soon as we get feedback from you. If you have any problems with the sale, please try to resolve it with us before you leave us a Neutral or Negative feedback.
Warranty: No warranty is expressed or implied with any unit. All sales include a 3 day right of return (ROR). For any reason, within 72 hours of taking possession of the item, the buyer can return the item for a complete refund minus all shipping costs.
Return Policy: You can return the item for any reason within three days. We put great effort into thoroughly documenting each piece of equipment, typically with very detailed pictures and video clips. We strongly encourage you to study these images closely before you commit to purchasing the item. Please call or email us if you have any questions about anything that you are uncertain about. It is critical that you confirm that this item suites your needs within the three day return policy period. Any returns after two weeks will not be entertained, and we will automatically escalate to Ebay. If you choose to open an Ebay return case, and we are forced to accept the return, you are responsible for the following:
*Return Shipping and insurance of the item to our Store at the following address:

*A Restocking fee of 10% of the purchase price for every week (after the initial 3 day return period) that the item is in your possession, not to exceed two weeks.