Description
Olympus Omniscan SX 16:64PR Phased Array Flaw Detector
Included with Sale
-Omniscan SX 16:64PR Unit
-Hard Padded Transport Case
Specifications:
Olympus is proud to introduce the OmniScan® SX, a flaw detector that benefits from more than 20 years of phased array experience and shares the OmniScan DNA. For improved ease of use, the OmniScan SX features a new streamlined software interface displayed on an 8.4 in. (21.3 cm) touch screen. A single-group and non-modular instrument, the OmniScan SX is easy to operate and cost-effective for less demanding applications. 
The OmniScan SX comes in two models: the SX PA

(selected model)

and SX UT. The SX PA is a 16:64PR phased array unit, which, like the UT-only SX UT, is equipped with a conventional UT channel for pulse-echo, pitch-catch or TOFD inspection. Compared to the OmniScan MX2, the SX is 33% lighter and 50% smaller, offering an unprecedented level of portability for an OmniScan. 
The OmniScan SX touch screen offers a full-screen mode option that maximizes visibility, essentially converting many menu functions into easy touch-screen operations. The intuitive interface provides smooth menu selection, zooming, gate adjustments, cursor movements, and text and value input. These, along with other premium integrated features, including easy-to-follow setup and calibration Wizards, a rapid refresh rate for both the S-scan and A-scan displays, and a fast pulse repetition frequency (PRF), make the OmniScan SX a highly efficient inspection tool. 
The OmniScan SX is fully compatible with the extensive portfolio of Olympus scanners, probes and accessories, as well as with its dedicated software companions, NDT SetupBuilder and OmniPC. Combined, the complete family of software and hardware contributes to a streamlined and efficient inspection workflow, from design and setup to acquisition and analysis. 
Software Features:
-The new OmniScan software features enhancements for greater functionality in weld and corrosion markets. 
-In the effort for continuous improvement, the software interface was simplified and the response time optimized in order to provide the best experience possible for customers. 
-New features include: 
-Export C-Scan 
-New End-View with group merge 
-Interleave 
-Analysis attenuation gain 
-Scrolling layouts for easy interpretation 
-Improved accessibility with more interactive menus 
-Optimised main menus and wizards 
-Onboard compound scan 
-Curved geometry ray-tracing for longitudinal welds
Applications:
The Omniscan SX provides Olympus with a new and versatile tool to add to its arsenal of innovative and creative complete market solutions aimed at simplifying your workflow and improving overall productivity. 
-Phased Array Weld Inspection 
The OmniScan PA is at the heart of the manual and semi­automated phased array weld inspection solutions developed by Olympus for the oil and gas industry. These systems can be used for inspection in compliance with ASME, API, and other code criteria, while offering high-speed detection capabilities, and facilitating indication interpretation. 
-Corrosion Mapping and Composite Inspection 
Zero-degree inspection just became even more accessible with the arrival of the OmniScan SX. For corrosion or composite inspection, Olympus offers field-proven solutions for detection of anomalies or wall loss. 
-TOFD Weld Inspection 
TOFD is an easy and efficient approach for primary detection of weld defects. It is quick, cost-effective and capable of sizing defects present in the volume of the weld, a problematic area for manufacturing defects. 
-Component Inspection 
Using ultrasonic techniques, inspection of components can detect cracks, wall loss, and other damage. With the capacity for both angle and linear zero-degree beams, the OmniScan SX is a very cost-efficient solution for this type of single-group inspection. 
The OmniScan Family 
Design:
-NDT SetupBuilder
NDT SetupBuilder design software is an integral part of the Olympus line of automated and semiautomated ultrasonic testing products. NDT supervisors can use NDT SetupBuilder software to simulate the inspection strategy in order to determine the appropriate number of beams and angles. This configuration can be imported into the OmniScan, thereby reducing configuration time and manipulation errors. 
-Olympus Solutions
Over the last few years Olympus has devoted considerable effort to innovating and deploying a wide range of complete market solutions aimed at meeting customers' needs. 
Acquisition:
-OmniScan
The OmniScan flaw detectors provide powerful inspection capabilities for manual and automated applications. They can be used with a full range of probes, scanners, and accessories, making Olympus the provider of choice for petrochemical, aerospace, and other industrial markets. 
Analysis and Reporting:
-OmniPC
OmniPC software is the most efficient and affordable option for PC-based OmniScan data analysis, and features the same analysis and reporting tools provided in the OmniScan onboard software. 
-TomoView
TomoView 2.10 features advanced data processing, analysis and reporting tools that will allow you to get more out of your inspection data. 
TomoView high-end features include: 
Volumetric merging for multigroup data visualization. 
C-Scan merging for combined data representation. 
Signal-to-noise (SNR) analysis and optimization tools. 
Advanced offline data generation tools. 
Technical Specifications:
Housing
- W=267 mm × H=208 mm × D=94 mm (10.5 in. × 8.2 in. × 3.7 in.) 
Weight
- 3.4 kg (7.5 lb) with battery 
Data Storage
- Storage devices
- SDHC card* or most standard USB storage devices. 
- *Lexar® brand memory cards are recommended for optimized results. 
- Data file size: 300 MB 
I/O Ports
- USB ports
- 2 USB ports, compliant with USB 2.0 specifications 
- Audio alarm: Yes
- Video output: Video Out (SVGA) 
I/O Lines
- Encoder
- 2-axis encoder line (quadrature, up, down, or clock/direction) 
- Digital input: 4 digital TTL inputs, 5 V 
- Digital output: 3 digital outputs TTL, 5 V, 15 mA maximum per output 
- Acquisition on/off switch: Yes, through configuration of a digital input 
- Power output line: 5 V, 500 mA power output line (short-circuit protected) 
- Pace input: 5 V TTL pace input 
Display
- Display size: 21.3 cm (8.4 in.) (diagonal) 
- Resolution: 800 pixels x 600 pixels 
- Brightness: 600 cd/m2
- Viewing angles: Horizontal: –80° to 80° Vertical: –60° to 80° 
- Number of colors: 16 million 
- Type: TFT LCD 
Power Supply
- Battery type: Smart Li-ion battery 
- Number of batteries: 1 
- Battery life: Minimum 6 hours under normal operating conditions 
Environmental Specifications
- Operating temperature range: -10 °C to 45 °C (14 ºF to 113 ºF) 
- Storage temperature range: -20 °C to 60 °C (–4 ºF to 140 ºF) with battery; -20 °C to 70 °C (–4 ºF to 158 ºF) without battery 
- Relative humidity: Max. 70% RH at 45°C noncondensing 
- Ingress protection rating: Designed to meet requirements of IP66 
- Shockproof rating: Drop-tested according to MIL-STD-810G 516.6 
Ultrasound Specifications (applies to OMNISX-1664PR)
- Connectors: 1 Phased Array connector (Olympus PA connector, 2 UT connectors (LEMO 00)
- Number of focal laws: 256 
- Probe recognition: Automatic probe recognition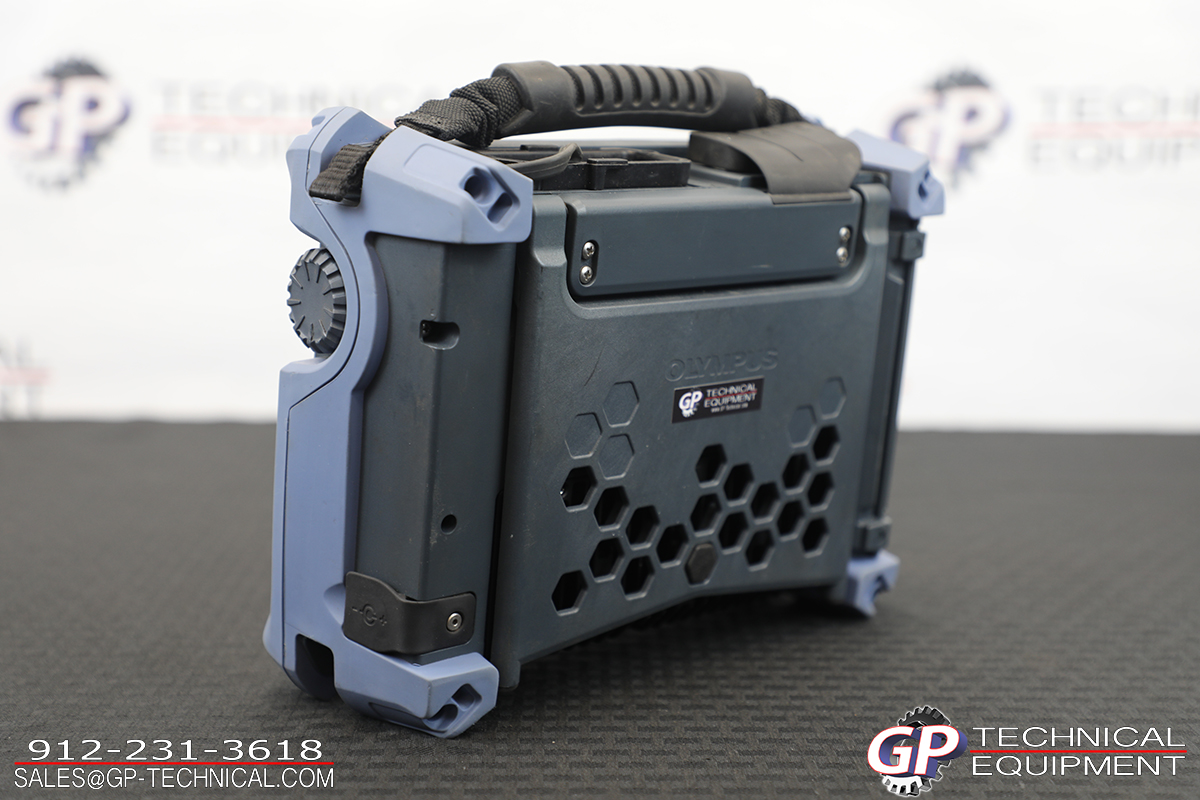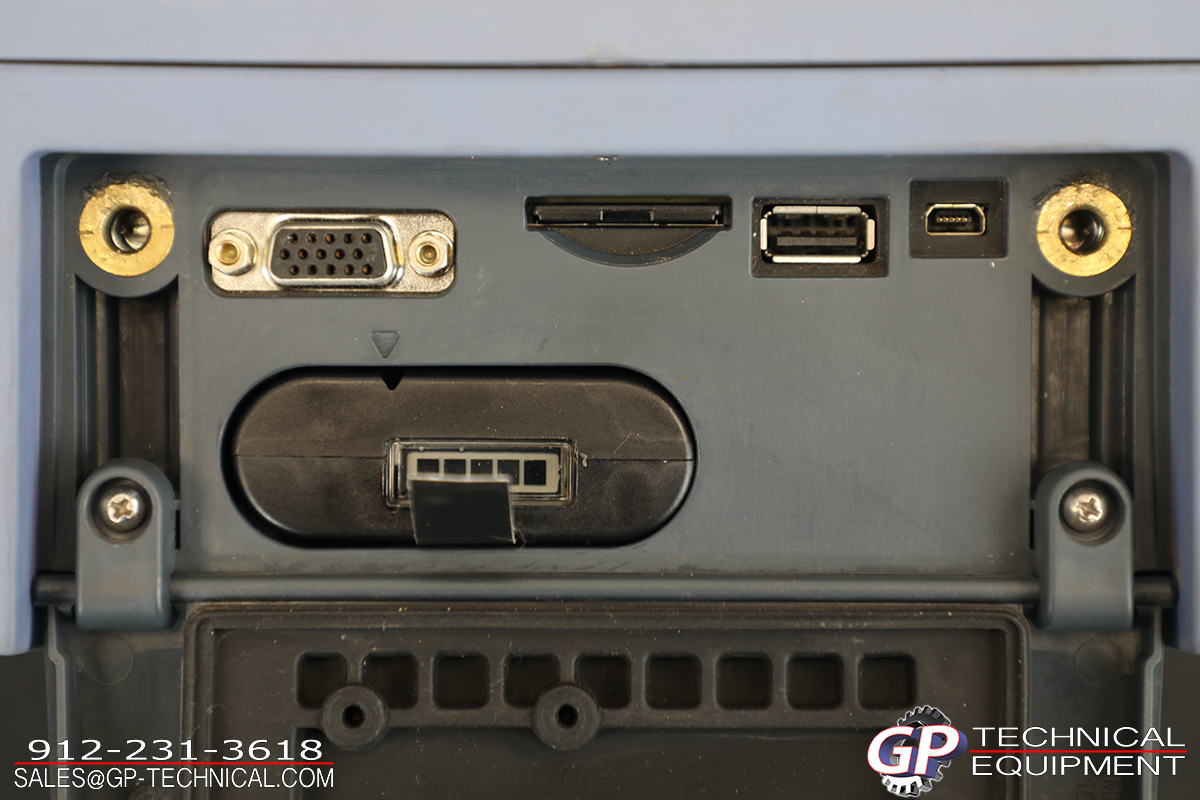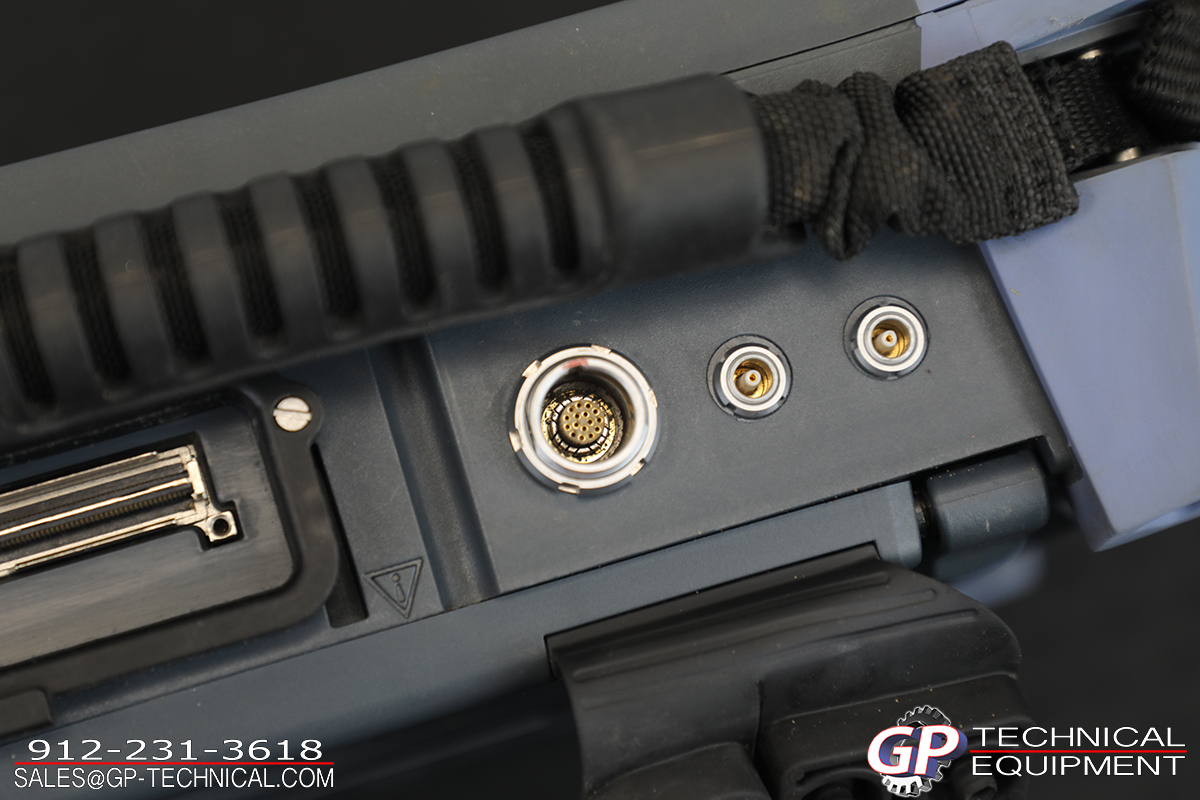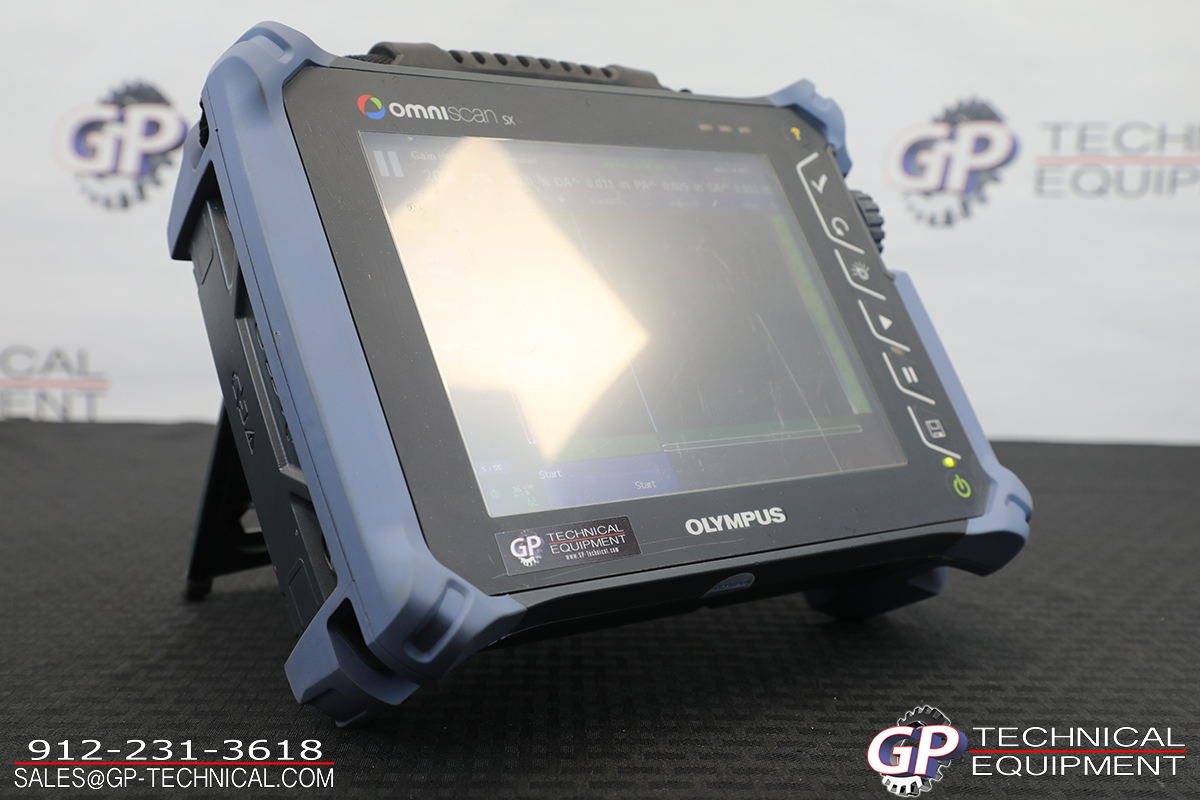 Trade Ins: We offer some of the highest prices on your used test equipment. We do partial trade ins or will buy your used equipment outright. An estimated trade in value will be assessed within 24 hours of receiving a value request.
Payment terms: We accept payment prior to shipping by Visa, MasterCard, AMEX, and Paypal (up to $10.000).  Businesses and Universities, please call for payment options.  Please notify us of method of payment in a timely fashion after the auction has ended. If a buyer has not made any attempt to contact us 7 days after this auction's end time we will assume they are forfeiting the auction and the item will no longer be available to them.
International Buyers:
 We reserve the right to accept or decline international Paypal and credit cards. International shipping is available, but clearing customs will often result in delivery delays.
Shipping Terms:  Buyer pays for shipping and packaging for this item. International buyers will pay for shipping charges to their country.

* Shipping and handling fees are not refundable under any circumstances. In the case of a return, the buyer is responsible for all shipping fees.
* Shipping for international buyers will be invoiced separately from the purchased product due to the high expense of shipping charges.
* Your phone number is required for shipping purposes, so please provide it with all correspondence.
* Please note that calculated shipping is based on UPS.  We also reserve the right to ship for the same cost via FedEx or other carriers. 

Packaging: All items will be packaged with materials necessary to ensure that the equipment will be adequately protected from the shipping process.

Feedback:  We appreciate Positive feedback. We leave feedback as soon as we get feedback from you. If you have any problems with the sale, please try to resolve it with us before you leave us a Neutral or Negative feedback.

Warranty: No warranty is expressed or implied with any unit. All sales include a 3 day right of return (ROR).  For any reason, within 72 hours of taking possession of the item, the buyer can return the item for a complete refund minus all shipping costs. 
Return Policy:  You can return the item for any reason within three days. We put great effort into thoroughly documenting each piece of equipment, typically with very detailed pictures and video clips.  We strongly encourage you to study these images closely before you commit to purchasing the item. Please call or email us if you have any questions about anything that you are uncertain about. It is critical that you confirm that this item suites your needs within the three day return policy period. Any returns after two weeks will not be entertained, and we will automatically escalate to Ebay. If you choose to open an Ebay return case, and we are forced to accept the return, you are responsible for the following:
*Return Shipping and insurance of the item to our Store at the following address:

*A Restocking fee of 10% of the purchase price for every week (after the initial 3 day return period) that the item is in your possession, not to exceed two weeks.