Description
Olympus Epoch LTC Ultrasonic Flaw Detector
Stock #220405B
Included with Sale
-Epoch LTC Unit
-Hard Transport Case
-Lithium Ion Battery
-Charger and AC Cable
Specifications:
EPOCH LTC: Rugged Handheld Flaw Detector
The EPOCH LTC is a mid-level, handheld ultrasonic flaw detector in a compact 2.12 lbs (0.96 kg) vertical case. It is a full-featured instrument with EN12668-1 compliance and a wide variety of standard features as well as specialized options to meet your inspection needs.
The EPOCH LTC Digital Ultrasonic Flaw Detector offers state-of-the-art technology in a package that is compact and lightweight 2.12 lbs (0.96 kg). Based on the design of the class-leading EPOCH XT, the EPOCH LTC is a full-featured instrument with EN12668-1 compliance and a wide variety of standard features as well as specialized options to meet your inspection needs.
Ultrasonic flaw detection is widely used for locating and sizing hidden cracks, voids, disbonds, and similar discontinuities in welds, forgings, billets, axles, shafts, tanks and pressure vessels, turbines, and structural components.
The instrument features a bright multi-color transflective display with full VGA (640 x 480) resolution providing a high resolution A-scan and superior visibility in all lighting conditions, including direct sunlight. The EPOCH LTC is also designed to the requirements of IP67, assuring that the instrument will perform in the harsh environments common in the inspection field.
Features:
-IP67-sealed to assure field ruggedness
-EN12668-1 compliant
-Only 2.12 lbs (0.96 kg)
-Full color VGA display with transflective technology
-USB On-the-Go Port for PC
-Communication and direct printing
-Mini SD card storage and onboard storage with standard alphanumeric datalogger
-Standard Dynamic DAC/TVG
-Standard onboard DGS/AVG
-Digital High Dynamic Range Receiver with digital filters
-High Performance Square Wave Pulser with tuning option
Powerful Performance in a Compact Flaw Detector
The EPOCH LTC incorporates many standard features to meet your inspection needs. These include a square wave pulser, dynamic DAC/TVG, onboard DGS/AVG, selectable digital filters, gain range from 0 to 110 dB, peak memory, 0.001 in. (0.01 mm) measurement resolution, and one gate with programmable alarms. In addition, the unit offers many optional application-specific software features: AWS D1.1/1.5 weld rating, Manual PRF Control, Pulse Width Tuning, and the GageView Pro Interface Program.
-Standard Square Wave pulser with PerfectSquare™ Technology
-Digital receiver filtering: standard, broadband and high-pass setting
-Four measurement displays that are fully customizable to meet inspection needs. Select any Gate measurement for each display box.
-Amplitude measurement resolution of 0.25% full screen height
-Auto calibration for thickness, soundpath, or angular depth
-Amplitude measurement from 0% to 110% full screen height
-PRF Rate automatically controlled from 10 Hz to 500 Hz. Manual control is optional.
-Grid Display Modes
- Standard 1-10
- Soundpath
- Leg mode for angle beam inspection
- Selectable 100% or 110% vertical display
Built For Tough Environments
The EPOCH LTC can withstand the rigors of field operation in harsh environments from offshore to deserts.
-Designed to meet IP67 environmental seal requirements
-Approved for Explosive Atmosphere per MIL-STD-810F, Procedure 1, NFPA 70E, Section 500, Class 1, Div. 2, Group D
-Shock tested per IEC 60068-2-27,
-60 g, 6 msec H.S., 3 axes, 18 total
-Vibration Tested - Sine Vibration per
-Drop Tested - MIL-STD-810F 4.5.5 Procedure IV - Transit Drop. 48" drop onto 2" plywood surface backed by concrete. Drop on each face, edge and corner; total of 26 drops
-IEC 60068-2-6, 50-150 Hz @ .03" DA or 2 g, 20 sweep cycles
-Wide operating temperature range:
- Lithium Ion: -10° to 50°C (14° to 122°F)
- Battery storage temperature 0° to 50° C (32° to 122° F)
- Recharge temperature: 0° to 40° C (32° to 104° F)
-Hand strap can be mounted for left or right hand operation
-Sealed battery compartment-no tools required for battery replacement
-Sealed I/O door for USB On-The-Go (OTG) connection, Mini SD card slot, and VGA / RS-232 port
Simplified Keypad Design
The EPOCH LTC features a simple keypad design that allows full control from left or right hand, for direct access to important functions. Rapid parameter adjustments, and recall of instrument setup (CAL) files are quick and easy.
Available in English, International Symbols, Japanese and Chinese.
Four customizable function keys allow the operator to select preset values for instrument setup parameters.
Advanced Software Features and Data Management
Standard Dynamic DAC/TVG: Calculates signal amplitude as a percentage or dB level compared to a DAC curve or a reference echo amplitude fixed with Time Varied Gain. DAC versions include ASME, ASME 3, JIS, and Custom. Contains several key features including: dynamically adjustable?DAC curves, switchable DAC & TVG views, and custom DAC warning curves.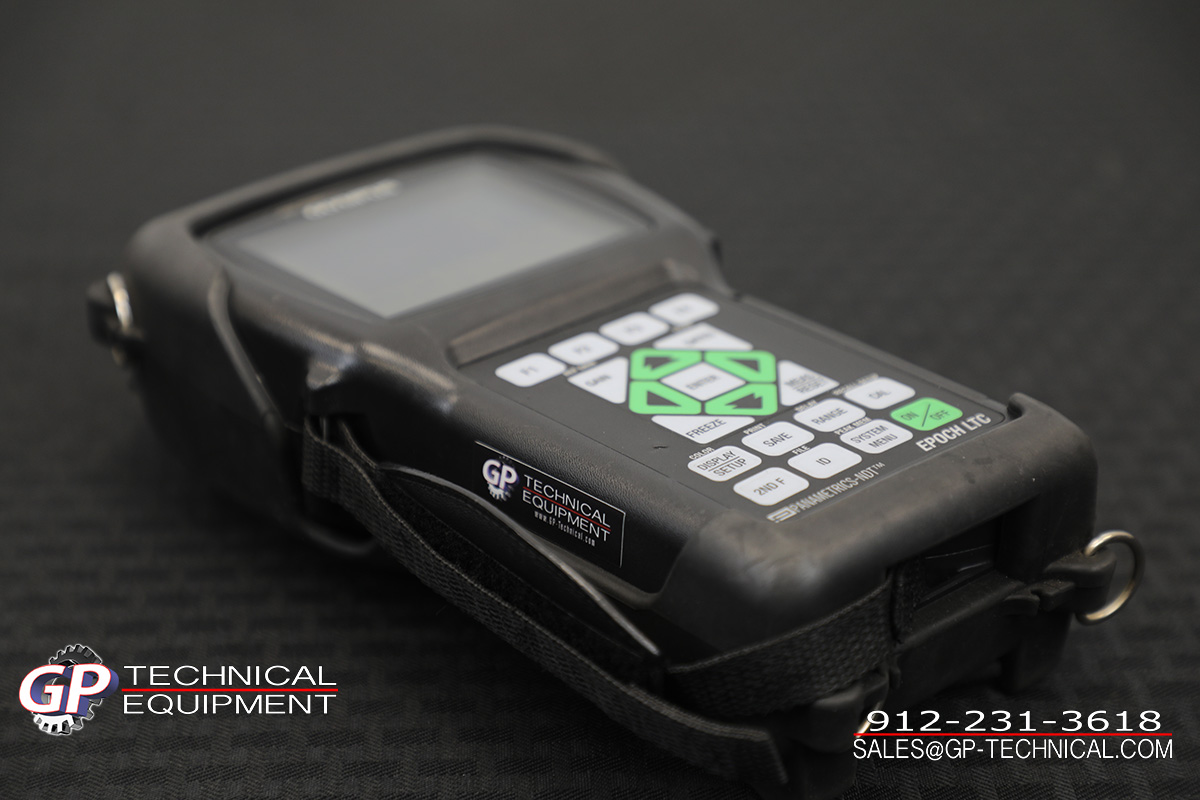 Trade Ins: We offer some of the highest prices on your used test equipment. We do partial trade ins or will buy your used equipment outright. An estimated trade in value will be assessed within 24 hours of receiving a value request.
Payment terms: We accept payment prior to shipping by Visa, MasterCard, AMEX, and Paypal (up to $10.000). Businesses and Universities, please call for payment options. Please notify us of method of payment in a timely fashion after the auction has ended. If a buyer has not made any attempt to contact us 7 days after this auction's end time we will assume they are forfeiting the auction and the item will no longer be available to them.
International Buyers: We reserve the right to accept or decline international Paypal and credit cards. International shipping is available, but clearing customs will often result in delivery delays.
Shipping Terms: Buyer pays for shipping and packaging for this item. International buyers will pay for shipping charges to their country.

* Shipping and handling fees are not refundable under any circumstances. In the case of a return, the buyer is responsible for all shipping fees.
* Shipping for international buyers will be invoiced separately from the purchased product due to the high expense of shipping charges.

* Your phone number is required for shipping purposes, so please provide it with all correspondence.
* Please note that calculated shipping is based on UPS. We also reserve the right to ship for the same cost via FedEx or other carriers.

Packaging: All items will be packaged with materials necessary to ensure that the equipment will be adequately protected from the shipping process.

Feedback:
We appreciate Positive feedback. We leave feedback as soon as we get feedback from you. If you have any problems with the sale, please try to resolve it with us before you leave us a Neutral or Negative feedback.
Warranty: No warranty is expressed or implied with any unit. All sales include a 3 day right of return (ROR). For any reason, within 72 hours of taking possession of the item, the buyer can return the item for a complete refund minus all shipping costs.
Return Policy:
You can return the item for any reason
within three days
. We put great effort into thoroughly documenting each piece of equipment, typically with very detailed pictures and video clips. We strongly encourage you to study these im
ages closely before you commit to purchasing the item.
Please call or email us if you have
any questions
about anything that you are uncertain about.
It is critical that you confirm that this item suites your needs within the three day return policy period.
Any returns after two weeks will not be entertained, and we will automatically escalate to Ebay. If you choose to open an Ebay return case, and we are forced to accept the return, you are responsible for the following:
*Return Shipping and insurance of the item to our Store at the following address:
GP-Technical
246 Pooler Parkway Suite E
Pooler, GA 31322
*A Restocking fee of 10% of the purchase price for every week (after the initial 3 day return period) that the item is in your possession, not to exceed two weeks.