Description
Thermo Scientific XL PMI+ XRF Analyzer
Included with Sale
-Hard Padded Transport Case
-x2 Lithium Ion Batteries
About the Unit:
GE XL-PMI+ XRF Analyzer
GE introduces the XL-PMI+ x-ray fluorescence (XRF) analyzers—powered by Thermo Fisher Scientific technology. When speed, accuracy, and reliability count, our perfect combination of hardware, software, and direct industry experience helps meet your specific analytical requirements. The XL-PMI+ Series is just another example of how we're improving the health of industry.
Built for the Way You Work
GE's XL-PMI+ analyzer offers high performance and advanced electronics while maintaining the point-and-shoot simplicity that has been the hallmark of all Thermo Fisher Scientific's legacy XRF instruments. Sealed against moisture and dust with 100% embedded software tools, these analyzers are lightweight yet ruggedly built to withstand the harshest environments—in the field or on the shop floor. Ergonomically designed and featuring daylight-readable icons, GE's XL-PMI+ incorporates customizable menus, multilanguage options, and a standard analytical range of more than 25 elements from sulfur to uranium. 
The Instrument of Choice
The XL-PMI+ is the instrument of choice when you require accuracy, precision, and ease of use. It is the ideal instrument to analyze metal alloys for industrial applications or product QC. It provides immediate nondestructive chemical analysis of alloy materials from titanium to nickel, as well as achieving superior performance for tramp and trace element analysis. With its unparalleled accuracy, you can be confident that GE's XL-PMI+ will correctly identify and provide precise chemical composition for a wide range of metal alloys—ensuring the right materials were used for the right application.
GE's XL-PMI+ analyzer provides you with many distinct advantages:
• Very easy to use—even by non-technical personnel 
• Rugged design for real-world industrial environments 
• Truly nondestructive test with near instantaneous results 
• From turn on, to trigger pull, to results in seconds 
•
Confident analysis with technology from NDT industry leaders
GE's XL-PMI+  - powered by Thermo Fisher Scientific technology... 
...stands far above the competition, with its many standard features and available options. Taking advantage of the standard Thermo Fisher Scientific Niton Data Transfer (NDT©) PC software suite to customize the instrument, you can set operator permissions, generate custom reports, print certificates of verification personalized with your own company logo, or remotely monitor and operate the instrument handsfree from your PC. Integrated USB and Bluetooth™ communications provide direct data transfer to your PC or networked storage device, eliminating the cumbersome data synchronization procedures required by PDA-based XRF analyzers.
XL-PMI+ Analyzer
Whether you need an analyzer for incoming metal inspection, verification of in-stock parts, or PMI of in-service process components, the XL-PMI+ provides cost-effective high-speed performance, point-and-shoot simplicity, and the cutting-edge NDT technology that you have come to expect from these industry leaders.
GE's XL-PMI+ analyzers represent just one of our handheld analyzer solutions, which include XRF tools for metal alloy identifications and many other analysis needs.
------------------------------------------------------------------------
------------------------------------------------------------------------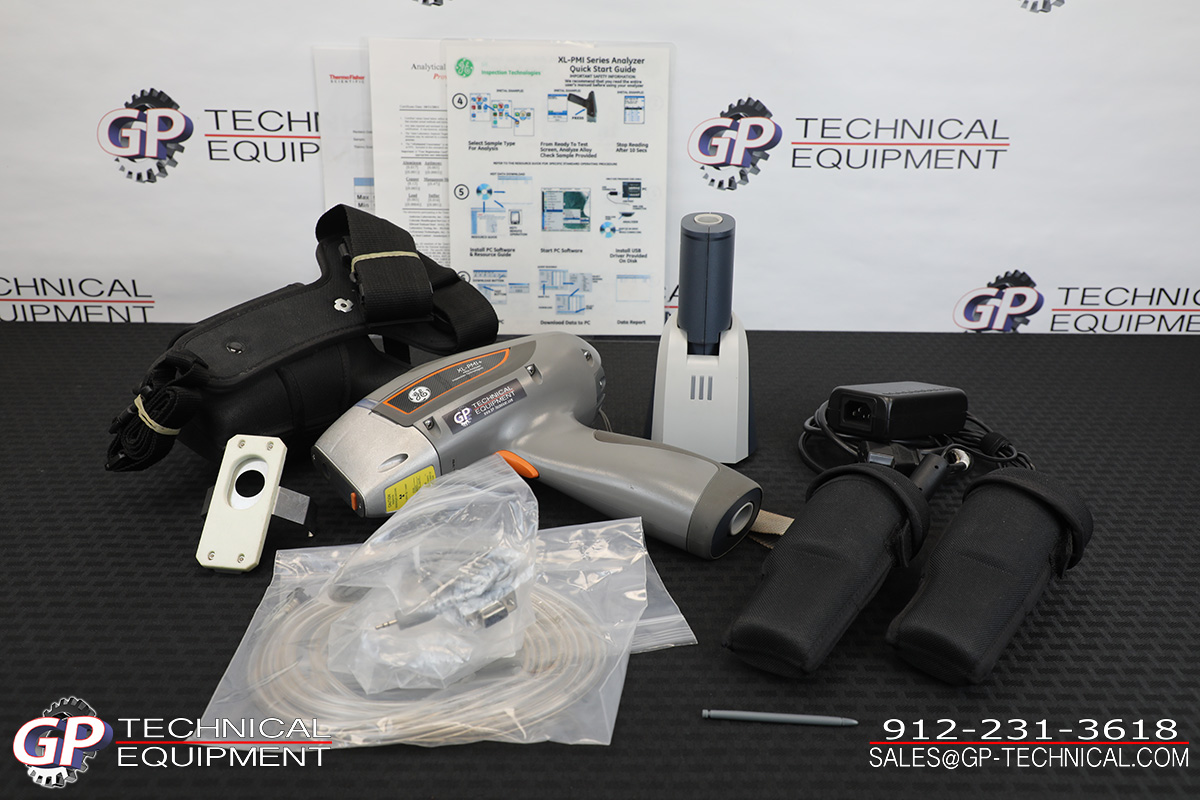 Trade Ins: We offer some of the highest prices on your used test equipment. We do partial trade ins or will buy your used equipment outright. An estimated trade in value will be assessed within 24 hours of receiving a value request.
Payment terms: We accept payment prior to shipping by Visa, MasterCard, AMEX, and Paypal (up to $10.000).  Businesses and Universities, please call for payment options.  Please notify us of method of payment in a timely fashion after the auction has ended. If a buyer has not made any attempt to contact us 7 days after this auction's end time we will assume they are forfeiting the auction and the item will no longer be available to them.
International Buyers:
 We reserve the right to accept or decline international Paypal and credit cards. International shipping is available, but clearing customs will often result in delivery delays.
Shipping Terms:  Buyer pays for shipping and packaging for this item. International buyers will pay for shipping charges to their country.

* Shipping and handling fees are not refundable under any circumstances. In the case of a return, the buyer is responsible for all shipping fees.
* Shipping for international buyers will be invoiced separately from the purchased product due to the high expense of shipping charges.
* Your phone number is required for shipping purposes, so please provide it with all correspondence.
* Please note that calculated shipping is based on UPS.  We also reserve the right to ship for the same cost via FedEx or other carriers. 

Packaging: All items will be packaged with materials necessary to ensure that the equipment will be adequately protected from the shipping process.

Feedback:  We appreciate Positive feedback. We leave feedback as soon as we get feedback from you. If you have any problems with the sale, please try to resolve it with us before you leave us a Neutral or Negative feedback.

Warranty: No warranty is expressed or implied with any unit. All sales include a 3 day right of return (ROR).  For any reason, within 72 hours of taking possession of the item, the buyer can return the item for a complete refund minus all shipping costs. 
Return Policy:  You can return the item for any reason within three days. We put great effort into thoroughly documenting each piece of equipment, typically with very detailed pictures and video clips.  We strongly encourage you to study these images closely before you commit to purchasing the item. Please call or email us if you have any questions about anything that you are uncertain about. It is critical that you confirm that this item suites your needs within the three day return policy period. Any returns after two weeks will not be entertained, and we will automatically escalate to Ebay. If you choose to open an Ebay return case, and we are forced to accept the return, you are responsible for the following:
*Return Shipping and insurance of the item to our Store at the following address:

*A Restocking fee of 10% of the purchase price for every week (after the initial 3 day return period) that the item is in your possession, not to exceed two weeks.