Description
Olympus IPLEX RX 6mm/2m Videoscope
Stock #221028I
Included with Sale
-IPLEX RX 6mm/2m Unit
-Hard Padded Transport Case
-2 Lithium Ion Batteries
-Charger and AC Cable
Optical tips for this unit available upon request
Specifications:
Good image quality
The IPLEX RX and RT feature good image quality of our videoscopes. Our unique PulsarPic image processor reduces noise and sharpens images, resulting in the exceptionally high resolution image.
The IPLEX RX and RT faithfully and brightly reproduce very small defects, and the sharp and clear images enable accurate and reliable inspections.
Brighter Illumination System
The IPLEX RX and RT feature a new LED illumination system that is approximately twice as bright as conventional videoscopes, while dynamically adjusting light output to reduce halation when metal or reflective surfaces are inspected.
The PulsarPic image processor interacts intelligently with our illumination system to deliver an optimized amount of light and gain enhancement to provide images that are very clear and sharply defined.
Still Images and Movies as Crisp as Live Images
The IPLEX RX and RT can record inspected images to a removable USB flash drive as JPEG still images and MPEG4 movies.
The improved image quality of recorded images and movies enables accurate image diagnosis not only in the field but also at the office with the use of our free image management software, InHelp viewer.
Large Monitor Providing Easy Yet Accurate Inspections
The compact IPLEX RX and RT are equipped with a 6.5 in. monitor. The large monitor displays small defects clearly from a comfortable distance for inspectors for easy identification.
Optimized Image Gradation
The IPLEX RX features our unique image processing capability, WiDER, which brings out the darkest areas of an image without washing out the details of the brighter regions. The innovative technology provides optimum inspections of large areas or even highly reflective areas.
In addition, the IPLEX RX is equipped with sharpness and color adjustment functions to create optimal images depending on objects and applications.
Operation With Ease for All Remote Visual Applications
Compact and Portable Design
The IPLEX RX and RT weigh just 2.9 kg/ 6.4 lb including the two-hour operating Li-ion battery. The compact and portable design allows you not only to easily ship or transport the IPLEX RX and RT to inspection sites but to smoothly carry them to difficult-to-access locations.
Comfortable Inspections in Optimal Styles
The versatile design of the IPLEX RX and RT offers comfortable use to almost anyone. The pivoting handle of the monitor can change into a stand during inspections, and allows you to place the videoscope wherever you want to optimize viewing distance and angles. The video output capability of the IPLEX RX and RT enables inspections in a group or from remote locations by connecting the external monitor. Furthermore, the IPLEX RX and RT can be used while being carried with a shoulder belt or connected onto a tripod.
Smooth and Accurate Approach to a Target
The innovative articulation technologies equipped on the IPLEX RX and RT allow for smooth and accurate approaches to the most demanding inspection paths.
The improved TrueFeel articulation controller features precise and quick scope tip articulation by just light-touch operation, achieving smooth navigation through intricate paths.
The insertion tube is designed with the unique Tapered Flex to optimize both the scope stiffness and flexibility for excellent scope maneuverability.
Quick and Easy Operation
The most common operations such as scope articulation, image adjustment and recording can be easily activated by pressing dedicated Quick Access keys on the lightweight handset. The menu setting of the IPLEX RX and RT is simplified for easy and quick operation.
User-friendly Menu Icons
All menus of the IPLEX RX and RT are displayed with easy-to-understand icons. An inspector can intuitively recognize the menus and efficiently operate the desired feature or setting.
Rugged and Durable for Reliable Performance Even in Harsh Environments
Robust Body
The IPLEX RX and RT pass the impact tests including vibration and drop from a height of 1.2 m/ 3.9 ft. The tough system compliant with Military Standards withstands rough treatment and ensures reliable operation in difficult environments.
Operable in All Weather
The IPLEX RX and RT comply with internationally recognized Military Standards (MIL-STD-810F and MIL-STD-461F)* as well as IP55, passing a range of severe environmental tests, such as blowing rain/dust, high humidity, and icing rain. In addition, the daylight view monitor featuring low-reflection displays clear images even under bright sunlight.
*Reference specification page for MIL-STD compliance details
High-durability Insertion Tube
Operators are often required to inspect objects inside narrow paths with rough or sharp surfaces. The insertion tube of the IPLEX RX and RT has a crush and abrasion-proof design and is covered with a tough, special processed tungsten braid.
In addition, the IPLEX RX insertion tube features high temperature resistant up to 100C/212F. A high temperature sensor beeps and display visual warning to prevent overheating.
------------------------------------------------------------------------
Detailed Images Below
------------------------------------------------------------------------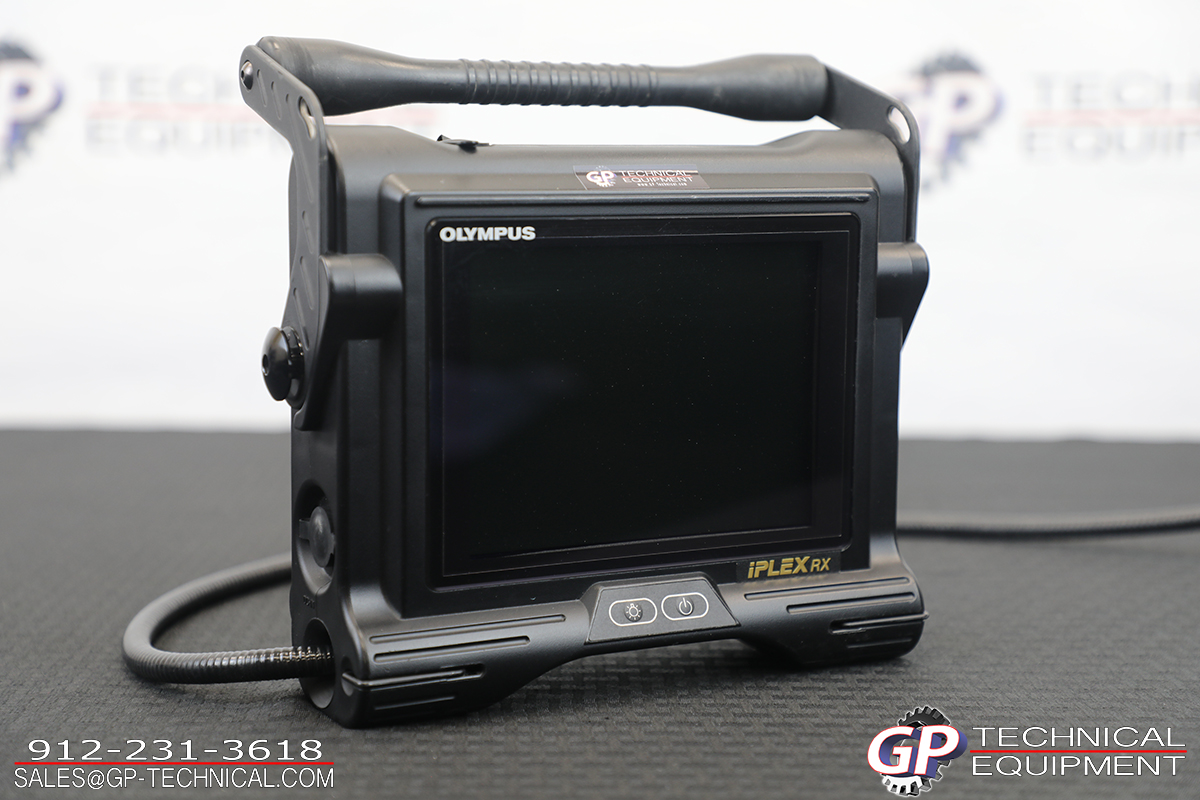 Trade Ins: We offer some of the highest prices on your used test equipment. We do partial trade ins or will buy your used equipment outright. An estimated trade in value will be assessed within 24 hours of receiving a value request.
Payment terms: We accept payment prior to shipping by Visa, MasterCard, AMEX, and Paypal (up to $10.000). Businesses and Universities, please call for payment options. Please notify us of method of payment in a timely fashion after the auction has ended. If a buyer has not made any attempt to contact us 7 days after this auction's end time we will assume they are forfeiting the auction and the item will no longer be available to them.
International Buyers:
We reserve the right to accept or decline international Paypal and credit cards. International shipping is available, but clearing customs will often result in delivery delays.
Shipping Terms: Buyer pays for shipping and packaging for this item. International buyers will pay for shipping charges to their country.

* Shipping and handling fees are not refundable under any circumstances. In the case of a return, the buyer is responsible for all shipping fees.
* Shipping for international buyers will be invoiced separately from the purchased product due to the high expense of shipping charges.

* Your phone number is required for shipping purposes, so please provide it with all correspondence.
* Please note that calculated shipping is based on UPS. We also reserve the right to ship for the same cost via FedEx or other carriers.

Packaging: All items will be packaged with materials necessary to ensure that the equipment will be adequately protected from the shipping process.

Feedback:
We appreciate Positive feedback. We leave feedback as soon as we get feedback from you. If you have any problems with the sale, please try to resolve it with us before you leave us a Neutral or Negative feedback.
Warranty: No warranty is expressed or implied with any unit. All sales include a 3 day right of return (ROR). For any reason, within 72 hours of taking possession of the item, the buyer can return the item for a complete refund minus all shipping costs.
Return Policy: You can return the item for any reason within three days. We put great effort into thoroughly documenting each piece of equipment, typically with very detailed pictures and video clips. We strongly encourage you to study these images closely before you commit to purchasing the item. Please call or email us if you have any questions about anything that you are uncertain about. It is critical that you confirm that this item suites your needs within the three day return policy period. Any returns after two weeks will not be entertained, and we will automatically escalate to Ebay. If you choose to open an Ebay return case, and we are forced to accept the return, you are responsible for the following:
*Return Shipping and insurance of the item to our Store at the following address:

*A Restocking fee of 10% of the purchase price for every week (after the initial 3 day return period) that the item is in your possession, not to exceed two weeks.